The Guide to Getting the Perfect Christmas Gifts in the UK
Christmas in the UK is a highly celebrated occasion, and the tradition of gift giving is a strong one. In fact, many people associate Christmas in the UK as a time to give and receive gifts more than anything else, which is why knowing what constitutes a good gift is essential to enjoying the festivities. Thankfully, our guide below breaks down exactly what you need to know about buying presents for everyone in your circle, so read on and have a merry Christmas!
Why We Give Gifts at Christmas
Gift giving is the time-honoured tradition of the festive season. We get Christmas presents for our partners, friends and family, and often our colleagues too. The historical origins of this practice came from the Romans, who exchanged presents during the winter solstice holiday, Saturnalia.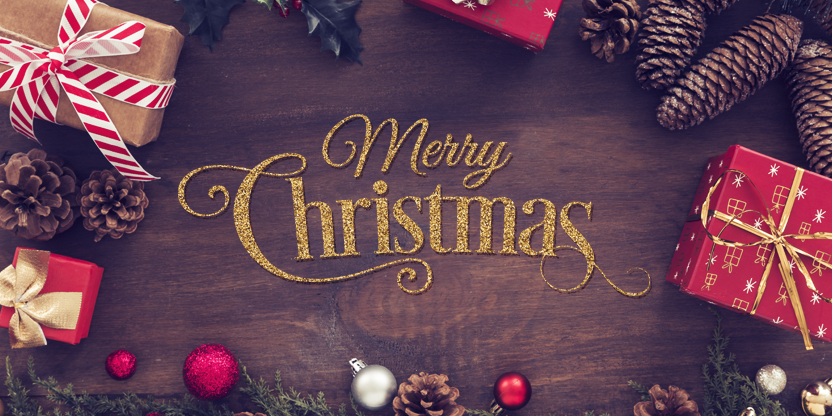 Eventually, this tradition was incorporated into the Christian faith and was further solidified by the Nativity story. In this Bible story, the Three Kings gifted the baby Jesus gold, frankincense and myrrh.

Thankfully, we're no longer expected to give such lavish gifts! However, average Christmas spend statistics tell a different story. In fact, the average Briton spends around £400 in Christmas gifts, though this rises to £923 when you include money spent on things like festive food and other essentials for the day (like alcohol!).
Traditional Gifts in the UK
A lot of this expense goes on traditional – and therefore essential – tokens of the festive season, such as decorations, Christmas trees and sweet treats, that make the run-up to the day even more exciting. In addition to theseese, there are also traditional Christmas gifts that many feel they can't go without.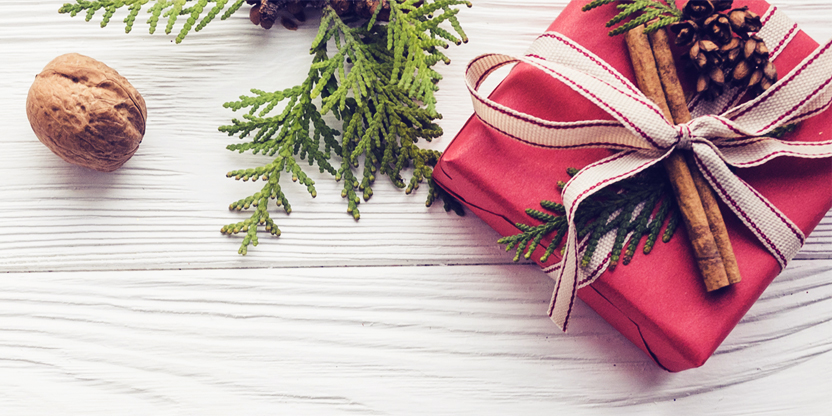 In the UK, popular traditional gifts include socks, alcohol, boxes of chocolate and tins of biscuits. Clementines are often left in stockings – or coal if you've been particularly naughty! You may find that you come across lots of nuts and dried fruit in the UK at this time too as these items are typically more expensive and so fit the indulgent nature of the season.

You don't have to gift these items at all, but these types of presents are ideal if you would like to gift something a little extra in addition to a main gift. They're also pretty safe options if you don't know the recipient of your gift well. Of course, you could always give something traditional but with a modern twist:

Socks
If you're bored of giving socks – even if they are useful – then try switching it up a little. You could gift slippers or fluffy bed socks that will keep their toes toasty in the colder months. You could even get them a sock subscription or give them regular socks with smaller presents tucked inside!

Alcohol
Try brewing your own alcohol to gift this year or give other beverages as gifts instead. If you have a friend who is addicted to a certain fizzy drink, then why not get them a box of it?

Biscuits and chocolate
At least one tin of biscuits and another of chocolates is a standard thing to find in any British household in the Christmas period. If you'd like to give something more personal but don't have the budget, then you could make your own special biscuits or even some handmade truffles. Gifting these instead of buying presents may take some time, but it will definitely make your Christmas significantly cheaper!

Coal
People who are on the naughty list are typically given coal in their stockings instead of gifts. It would be a little mean to actually do this to someone but definitely a great practical joke. Alternatively, charcoal is used in medicine and whitening toothpaste, so you could always give this as a present that's a little tongue-in-cheek!
Christmas Traditions in the UK
Gifts aren't the only traditional aspect of Christmas in the UK. In the buildup to this much-loved day, there are plenty of traditional things to do and take part in. Not taking part in these would likely scandalise any Brit!
Anticipation for Christmas Day is built up as early as October in the UK, with businesses running nostalgic and heartwarming adverts on TV. By November, temporary Christmas markets – often built in the style of wooden chalets – will be appearing all around the country, and many families will have finished decorating their homes with tinsel and fairy lights, both inside and outside. In this buildup, many people will celebrate by having parties or meals with their friends, families, and work colleagues.

In addition, they may also watch a pantomime, which is a type of theatre performance unique to the UK. Typically, pantomimes are modern-day renditions of popular fairy tales acted out in a humorous way, with plenty of gags and spectacle for the whole family. Often members of the audience may be encouraged to go on stage, and everyone is expected to take part in familiar jokes. Don't worry if you're new to these; you'll quickly pick it up!
Romantic Christmas Gifts for Your Wife
However, for most people, the main thing about Christmas are the presents. This is certainly the case with children who believe that Father Christmas will be arriving imminently with their gifts. For adults though, it's a time to show your loved ones how well you know them, care for them and appreciate them. Of course, there is no person more important that you get this right for than your partner.

If you're hoping to win some serious brownie points this year, then you may want to consider researching romantic Christmas gifts for your wife. After all, though she may be expecting gifts, she knows that romantic gifts take a lot more thought and effort. But what to get?
The true romantic
If you really want to sweep her off her feet, then truly romantic gifts are what you need to be thinking of. Personalised items such as custom prints that incorporate special dates you share together, engraved jewellery and commemorative photo albums are always a good choice. Personalised Christmas presents are good gifts in their own right, with a touch of extra consideration that will let her know how special she is to you.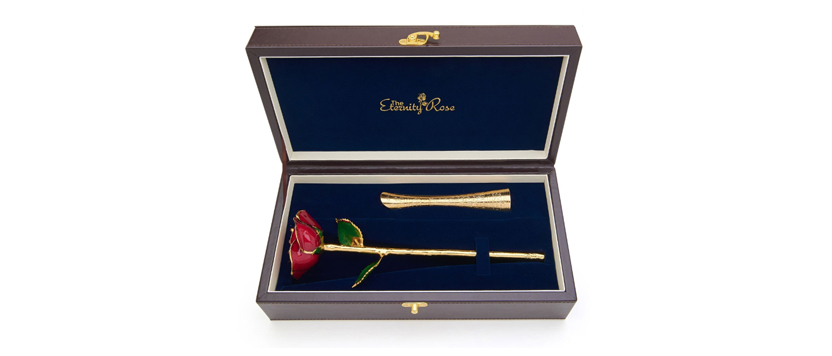 Of course, the word romance brings to mind flowers – and lots of them! You could buy your wife a subscription to a flower company, who will deliver fresh blooms on a regular basis. However, for something really romantic, you could buy a
red eternity rose with its own vase
, which will serve as a permanent reminder of your love for her. Red roses are symbolic of romantic love, and each eternity rose consists of a real glazed rose preserved forever.
Combine gifting your eternity rose with breakfast in bed on Christmas Day, one of the most romantic ways to start any special day.
The thoughtful gifter
If the true romantic route isn't quite your cup of tea, then perhaps gifts that really let her know you thought of what she needed and wanted is the right choice for you. These types of gifts show the amount of consideration you put into her Christmas presents without coming across as even slightly cheesy.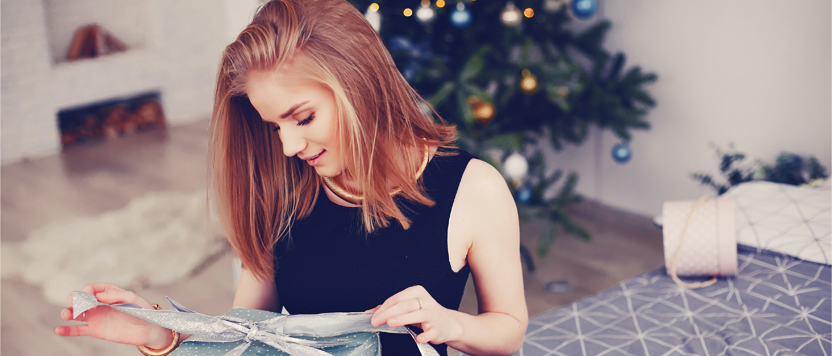 Is she an avid reader? A book that's been on her to-buy list is always a nice idea, and you could write a personalised note at the start so she'll always remember when she got it.
If you're not sure of what to get, you could always ask. Just make sure enough time has elapsed between the time you asked and Christmas Day so that she will have forgotten what she said she would like!
If you'd rather not let her in on what Christmas presents you've got in mind for her, then you can't go wrong with comfy and cosy gift options. New luxury pyjamas and high-end bedding will affect her every day, giving her higher-quality sleep and improving her overall well-being. Who wouldn't be happy with that gift? If she loves to make her home beautiful, then you could combine the gift of new bedding with some scented candles, which will only help make her feel even more relaxed.
The adventurous one
Everyone loves to relax, but if nights out are more your wife's bag, then you would be safer opting for adventurous Christmas gifts. Put a big smile on her face with a surprise trip to somewhere you've never been before, even if it's just a drive away!
The fact you've gone to great lengths to research and book a special break will be especially romantic to her. If you'd like to make it even more special, you could combine the holiday with an activity you've both always wanted to try.This could be anything, from a sporting activity to a class or a sightseeing venture.
Prefer to keep all your adventures indoors? In that case, you could treat your wife to some fancy lingerie, an embroidered robe or a
massage kit
. Just make sure she knows it's you who intends to give the massages!
What Your Other Female Relatives Will Appreciate
Of course, your wife isn't the only female in your life that will need a gift, and sometimes it can be even more difficult to find an appropriate gift for your other female relatives.
The perfect Xmas gifts for your sister
Shopping for your sister can be hard, especially as you want to give her a gift that shows her how much you care for her. Thankfully, you can't really go wrong with concert tickets. If you know what music she's into, then buying her tickets to one of her favourite bands will definitely put you in her good books. If you can only remember what she liked when you were younger, then buy tickets to those; everyone loves a bit of nostalgia!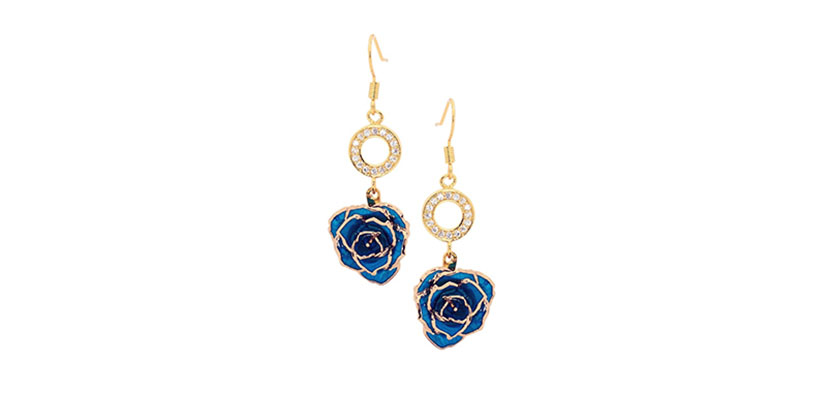 If buying tickets for a gig when you're not exactly sure of who your sister is into makes you feel a little nervous, then you can't go wrong with jewellery. Buy her a charm for an existing charm bracelet or some
eternity rose earrings
, which can be worn for any occasion. Choose an option in her favourite colour and she'll want to wear them every day throughout the year.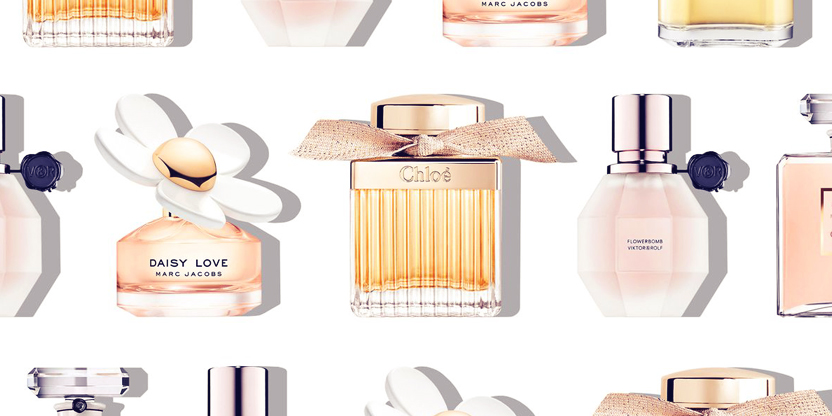 What to get your mother for Christmas
Unfortunately, shopping for your mother can be even harder than shopping for your sister. But don't worry, we're here to help. If you've got a big budget to work with, why not opt for a spa day? You could purchase a couple's package and give her the gift of relaxation as well as some much-needed quality time together.
If you're looking to get a gift that's a bit more middle of the range, then a perfume is always a lovely thing to be given. If you already know what your mum uses, then all the better. If not, ask for some advice at the perfume counter in your local department store. For smaller budgets, you could look at buying a nice body scrub or a book that matches her interests.
Buying Xmas presents for your grandmother
Last but not least is the matriarch of the family. Your grandmother will never expect you to splash a lot of cash on her gifts. However, that's exactly why it can be such a lovely surprise if you do decide to get a Christmas present for your grandmother that is a little pricier.
Jewellery makes for a lovely gift, and eternity rose jewellery is an even lovelier one. You can buy pendants or necklaces in a range of styles or buy a set that combines the two. Each of these items of jewellery are made from real rose petals glazed and cast in 24 karat gold. They are available in several different colour options, so you're bound to find your grandmother's favourite shade.
Great Christmas Presents for Him
Of course, Christmas isn't only for the women in the family; there are plenty of men in need of suitable Xmas gifts too! Shopping for men can be really difficult though, especially as many of them are less likely to vocalise what types of Christmas gifts they would like to receive.
For this reason, it's best to keep it simple. Work out what the men in your life are most interested in and get them gifts that flatter these interests.
Active and outdoorsy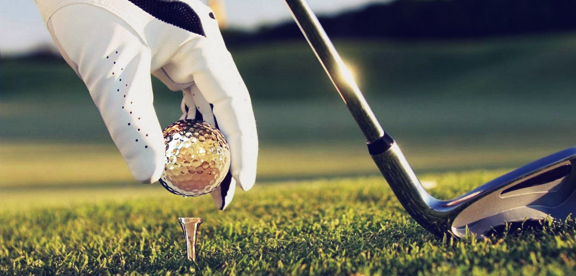 They love nothing more than breaking a sweat or scaling the nearest mountain. In fact, you've lost track of the amount of sports they've tried and how many times they go to the gym in any given week. For this gym bunny, you could invest in a
smart watch
, which will keep them up to date with all their most recent stats. Watch out though – they're likely to start tracking their data as soon as you all go on your Christmas Day walk!
If they are less active but enjoy casual sports with friends or solo, then a playable real gold-coated golf ball will go down a storm. Not only will it make their golfing skills look even more top-notch, but it'll also help their golfing equipment stand out! If your budget won't stretch to any of these options, then consider getting them a custom water bottle that will help fuel them through their next workout.
The party animal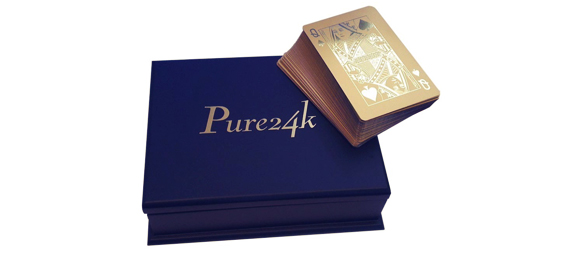 With a social calendar crammed full of exciting activities, this party animal is probably planning on making your Christmas a very merry one! Get ahead of the fun by gifting them a new speaker which they can use to get everyone dancing after a sherry or two.
There are plenty of options to choose from, but make sure you choose one that is suited to their character; retro partygoers will appreciate a modern-style record player, but those that never go anywhere without their phones are more likely to appreciate the option to control the music that is playing through an app on their phone.
Aftershave is another safe gift to give. Not only is it a nice present to receive, but also it will keep them smelling fresh even after throwing plenty of shapes on the dance floor. Are they normally the source of entertainment at a get-together? Then gift them some gold-dipped poker cards, which will make their tricks and games look even more electric.
The hardcore gamer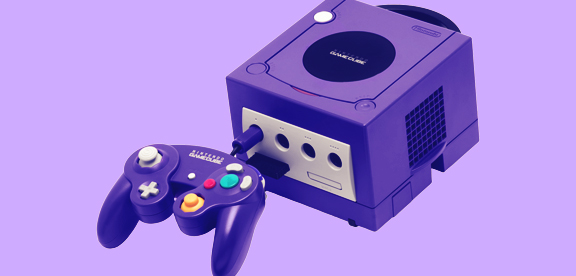 Never without a controller in hand, the hardcore gamer is relatively easy to please. You can take it for granted that they've got the newest games at home, but what about retro ones? Gift them a game from their childhood or have a look to see if a remastered version has been released. If you can get your hands on one, you could even gift an old game console – complete with games, of course!
On the same subject, if this gaming aficionado is high up on your Christmas list and you have the budget for it, you could gift him a VR headset. You'll all have great fun testing it out on the day, and it's safe to say you'll be in their good books forever!
Looking for something smaller? There are tons of suitable gifts for gamers; you just have to know what gaming world it is that they're into. Once you know, you could choose from figurines, walk-through guides, clothes, socks, slippers, pyjamas, mugs, foodstuffs . . . the list really does go on!
King of grooming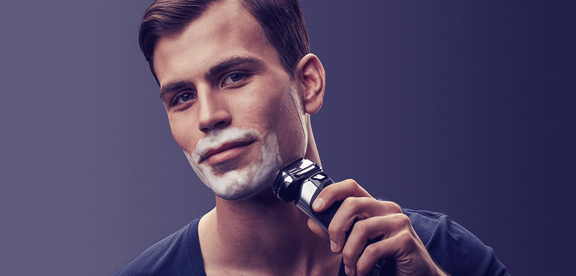 There's nothing that most men hate more than having to shave. Though it may look like a boring option, having a really good shaver is a gift no man will turn his nose up at. There is a range you can choose from, and how fancy you go is really up to you. Alternatives to popular electric shavers includes signing them up to a shaving subscription company – of which there are plenty to choose from – or buying them a metal safety razor. Make this gift even more special by partnering it with shaving foam and gel and a luxury moisturiser to pamper their skin.
If he's already well stocked when it comes to shaving utensils, another option is to gift him vouchers for a local spa where he can book a treatment that suits him. Whether this is a massage, facial or even a manicure, the choice is completely up to him. Feeling the crunch as the festive season approaches? Opt for a nice soap or body wash that will get him smelling great without emptying your bank account.
Gifts for all guys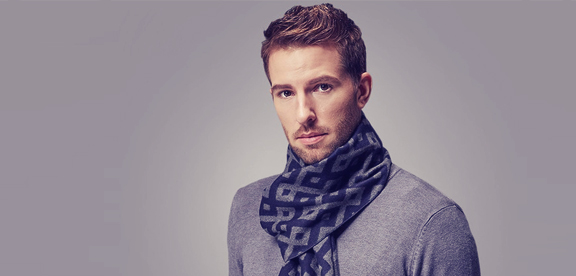 Of course, some men just defy being put into a category, which can make the gift-buying experience a stressful one. But there's no need to fear. There are certain gifts that most, if not all, men would be pleased to receive:
A good-quality scarf that matches their style is always going to be appreciated in the cold months of the year.
Everyone likes to read, don't they? A book they've wanted or a book you loved is a safe bet.
Vouchers tend to be for the occasions when you really don't know what to buy, but that doesn't mean they're not the perfect gift. Just make sure you get them a voucher for a shop they usually frequent and you'll be on their nice list all year long.
Hopefully, these options will help you enjoy the gift-buying experience and help the people in your life enjoy the gift-opening experience too!
What Christmas Day Looks Like in the UK
Once you've worked out what you will be getting for him and her, the momentous day will be upon you. If this is your first Christmas in the UK, you may be worried about getting it all right. Unfortunately for you, the way Christmas Day pans out suffered from family to family. Thankfully, however, you are likely to come across certain staples.
The early bird catches the . . . present?
If there are children in your family, it's usual to be woken up hellishly early as their excitement simply can't be contained any longer. Depending on your family, you may open your presents at any time, from first thing in the morning – before breakfast – or after the main meal of the day. This really does vary from family to family, so just copy what everyone else does. Something to note: though the Brits are typically more reserved, they have no qualms about being in front of one another in their pyjamas on Christmas morning.
The star of the show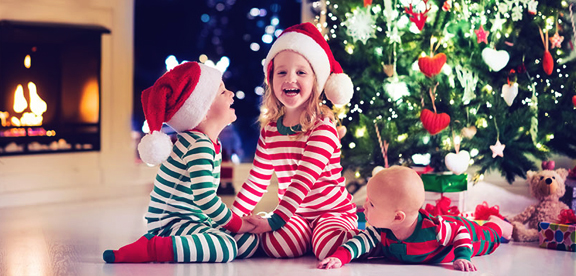 The next big part of the day is, of course, the infamous Christmas Day meal. In the buildup to the big day, you'll see plenty of adverts showing what you can expect. This meal usually features roast vegetables, a variety of less common meats (goose, turkey and salmon are some examples), jellies, sauces and various types of potato dishes.
Christmas crackers
Whilst you're enjoying your Christmas meal, you may notice some tubes, often decorated with patterns and ribbon, lying on the table. These are called Christmas crackers, and you take one end, offering the other to someone else at the table. Both of you pull until the cracker snaps and the person with the majority of the cracker is the owner of what's inside. Usually, this includes a paper hat, a slip of paper with a joke written on it and a small gift.
Some people opt to make their own Christmas crackers. If you'd like to do the same, then some great things to put in are as follows:
Polaroid pictures of the group that are pulling the crackers
Scratch cards
A posh chocolate truffle
Small packets of sweets
Personalised key rings
Christmas walk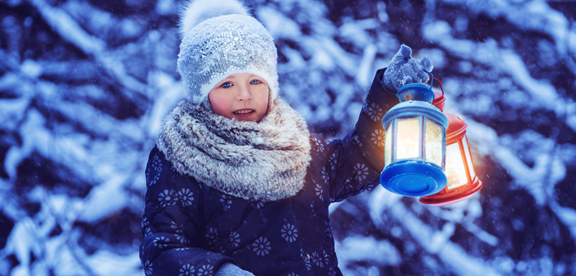 Many families enjoy going for a walk on Christmas Day, either to walk off their massive Christmas dinner or to get a little bit of time out of a house packed to the rafters with family members. Make sure you've packed some comfortable shoes and a warm coat if you're staying somewhere other than home; Christmas in the UK can be a very chilly time!
The Queen's speech
Last but not least is the Queen's speech. Every Christmas Day, the Queen addresses the public via a special broadcast. In it, she usually addresses major events of the past year, and the speech usually follows a particular theme. Many families gather around the television to watch this one time in the year when the Queen addresses her subjects, and some people consider it a traditional part of their day.
Unusual Christmas Gifts for Her
Not satisfied with the gifts you've bought so far? We all hope that the Christmas presents we gift to those we love will be really enjoyed. One of the best ways you can ensure this is to opt for unusual Christmas gifts.
When buying for the special lady in your life, consider what unusual Christmas gifts for her will really leave a lasting impression and, most importantly, what will she use over and over again. The following are some great ideas: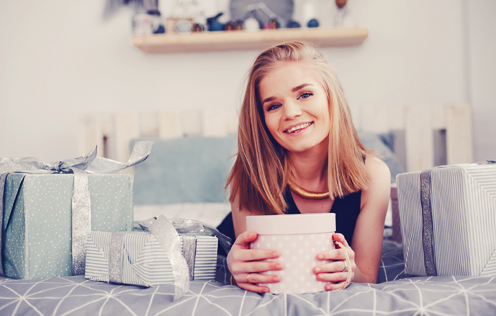 Experience days
There are a wealth of different experience days available in the UK, which means there's bound to be something perfect for the lady in your life. Whether it's inland surfing, testing supercars, an assault course or signing them up to a day as a zookeeper, you're bound to find the right thing for them.
Board games
It's pretty normal to get gifted board games at Christmas; after all, after being cooped up in a busy house with your entire family, you start to need a distraction. The twist here is that there are plenty of unusual board games out now that will get everyone laughing, whether it's matching dog owners to their dogs or doing generation-specific trivia.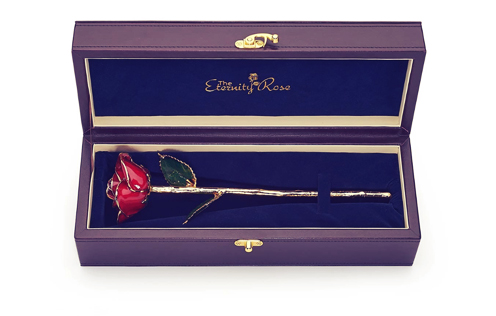 Kitchen gadgets
Everyone has enough kitchen gadgets to keep them busy cooking and baking for a hundred years, but surely, there's always room for something a little . . . fun? An outdoor pizza oven that will make garden parties a feast for everyone, a cotton candy machine or a monster smoothie maker for the health aficionado are all great options.
Of course, for a really standout gift that will catch their attention for years to come, an
eternity rose
is the perfect present. As they're available in a range of colours, you'll be able to give them one that matches their personal style.
Great Christmas Gift Ideas for Everyone's Stockings
Do you stick to the traditional clementines and nuts, or do you like to introduce small gifts that will put a smile on their face? If so, then these ideas should help you fill those stockings!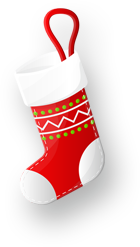 Gloves
Keep everyone's fingertips frostbite-free with some gorgeous gloves that they'll want to wear all day long.
Bath bombs and soaps
Get the whole family smelling fresh with luxury soaps and bath bombs.
Sweets and chocolate
Stocking are the perfect size for sweet treats. Get some in the shape of fun Christmas symbols.
Jewellery
Stockings are also the perfect size for some beautiful jewellery.
Eternity rose earrings
can easily slip in a stocking!
The traditional clementine
You have to include a clementine in your Christmas stocking. It's tradition!
Budget Christmas Gifts for Your Friends
Once you've ticked all your family members off your Christmas present list, you'll still have to think about what to get your friends. By this point, it's understandable if your bank account is starting to look a little depleted. One thing we would suggest is to introduce a Secret Santa, especially if you have a group of friends that all buy gifts for one another.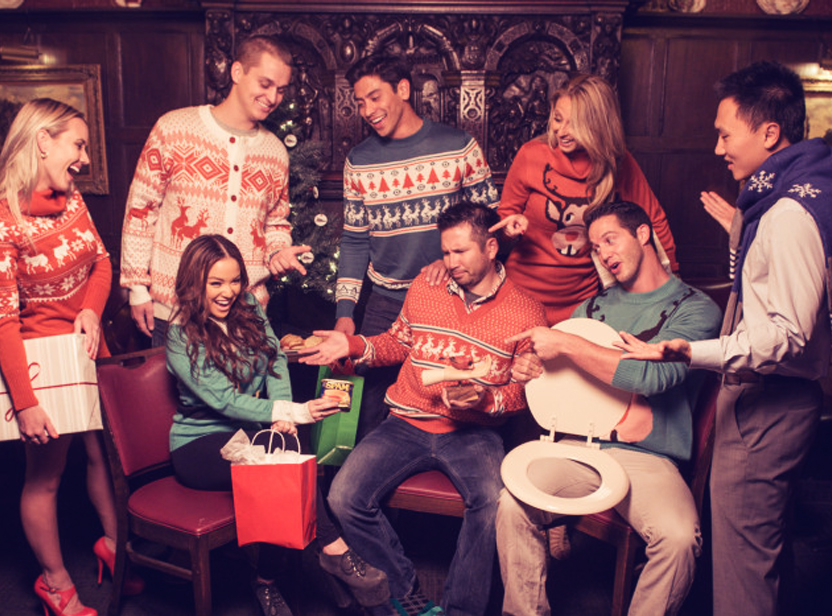 What is Secret Santa?
A Secret Santa is when a group of people write their names on pieces of paper and put them into a hat. Everyone pulls out a slip each, and they then have to buy a gift for that person. It's usual to agree an amount that you will all spend so someone doesn't end up feeling shortchanged. Some great ideas for gifts for your friends include the following:
A framed poster: you can buy beautiful posters relatively cheaply.
A travel book for an upcoming trip so they can plan ahead
Posh tea or coffee to keep them chugging along
A nice stationary to keep them motivated at whatever they do
Top Tips to Make Your Christmas the Best One Yet
Once you've found the perfect gifts, bought them, wrapped them and put them under the tree, the last thing to prepare is Christmas Day itself. If you have small children, your Christmas will undoubtedly feel magical as their excitement really works to bring the best out of the festive period. Make the most of this by helping them to write their letter to Father Christmas and by planning a special wintery walk to go and post it as a family.
You can also enlist their help in building a gingerbread house or gingerbread decorations for the Christmas tree. Putting out biscuits and milk for Santa will be even more special if they made the treats he's going to feast on! The night before the special day, make sure you take the time to read a great Christmas classic to them before they head to sleep. A Christmas Carol or How the Grinch Stole Christmas are some great choices.
If you're celebrating with a partner or with your own little family for the first time, then why not start your own Christmas traditions? You could gift pyjamas to one another on Christmas Eve, have a traditional meal that you always eat the night before the big day or get in the habit of watching a film as the day winds down. Get creative and you'll have the perfect thing to do to get your children excited year after year.
Christmas is the perfect time to show all your loved ones just how much you care for them, whether that's buying them lavish gifts or getting crafty in the kitchen on the big day. Whatever you decide to give as presents, make sure you make the most of the day itself. Christmas only comes once a year, after all!