When your anniversary comes around, you might want to think of unique and romantic things to do to mark the occasion. Luckily, there are plenty of exciting suggestions, and you may want to select something from these ideas that are suitable for all tastes and circumstances.
1. Begin the special day with a sumptuous breakfast. On the evening before your anniversary, prepare a tray of fruit or pastries paired with champagne, and venture out to watch the sun rise.
2. If your partner isn't a morning person, it might be more suitable for you to spend the day in bed. Make your anniversary a special, lazy day filled with chat, relaxation and enjoying the company of each other. Why not bring your partner breakfast in bed - the ideal treat for a busy parent or hard-working early riser.
3. Bring your day to a romantic close by watching the sun go down together. Make a trip to a special spot and take a tasty picnic with all your favourite foods.
4. Have an in-home spa session. Make your bedroom into a massage parlour by lighting a few scented candles, playing some soft music and turning down the lights. Use some massage oils with delightful aromas and pamper your partner.
5. Why not have a shower with your special someone, taking the time to really revel in one another's company? Enjoy a sensual time or just rekindle the spark of love.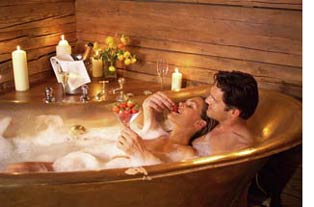 6. There is nothing more romantic than taking a bath by candlelight together. Relax in warm, soapy water, while enjoying the aroma from luxurious bath products.
7. Arrange a picnic indoors if you have a winter wedding anniversary, or if the weather outside is otherwise unsuitable. When the weather is too chilly to take a romantic picnic in the countryside, light the fire, place a rug down and open a basket packed with all the most tasty foods. You can even drink a few glasses of wine since you don't have to drive back home!
8. Enjoy kissing. After a few years together, you tend to forget the fun you used to have just making out with your partner. Return to those early days and make-out!
9. Cook a romantic dinner for your beloved, either using all their favourite ingredients, or by experimenting with something a little unusual. Perhaps you could recreate a meal you previously enjoyed and which holds a special meaning for you.
10. Remember in your earlier days when you used to go to the movies together, but not watch the film? Pick a low-peak screening time and rekindle the fire of your love by kissing and holding hands like back in the old days at your own virtual private screening.
11. Perhaps you might prefer to hold your movie night in the privacy of your own home. Pick a movie you'll both love, and snuggle down together on the couch.
12. Surprise your loved one with a beautiful bunch of flowers with a handwritten letter attached, telling your partner how much they are loved. Alternatively, hide individual flowers around the home, each with a romantic love note, or sprinkle your bed with scented rose petals.
13. Spice it up in the bedroom by trying out a few new positions. Look up the kama sutra for inspiration and come up with some exciting suggestions to boost your love life.
14. Take your sex routine out of the bedroom and try spicing things up by making love in an unusual place - what better way to bring a touch of thrill to your anniversary?
15. Display photos that tell the story of your relationship all around your home and reminisce about happy times from your earliest days through to the present.
16. Look back at an old wedding video or photograph albums while enjoying some snacks and a few glasses of champagne.
17. Arrange a special photo session for two with a professional photographer, and arrange some of the shots around the home. Alternatively, book a boudoir photography session and keep the pictures for private use.
18. Make the night special by spending it in a hotel rather than at home. Book a room and decorate it with rose petals and candles, and run a warm bubble bath you can enjoy together.
19. If you have a passion for the outdoors, organise a camping trip for two. Rekindle your passion for each other while enjoying the splendour of nature.
20. Join a class or learn something new together. Perhaps you both have a shared interest in cooking or dancing and would like to develop a new hobby together.
21. Make your evening memorable by playing a song that holds meaning for you both, perhaps your first wedding dance. You could dance again on this anniversary day and relive those memories.
22. Make this day really special by trying something new for the first time together. Perhaps experience a thrill-seeking challenge like parachuting, diving or skiing.
23. Spend the day trying a new activity that is romantic and laid back. A hot air balloon ride or a wine-tasting activity are lovely ways to spend time together.
24. Hold a ceremony to renew your wedding vows in front of your friends and family.
25. Take over your partner's chores for the day. If you never, or rarely help out around the home, your other half will be delighted if you offer to wash up, clean the floors or help with the children.
26. Hide a handwritten love letter where your partner will find it and touch their heart with your thoughtful idea.
27. Clothing is sure to be an appreciated gift. Buy some pretty lingerie for your wife, or a beautiful new dress and then take her out for a special meal.
28. Call your partner's favourite radio station and request them to dedicate a favourite song on your anniversary day.
29. Surprise your partner with a new and unexpected skill. Perhaps you could learn to play a song on the guitar or learn a dance and then impress them.
30. Play a romantic and sensual game in the bedroom (eg, strip poker; twister).
31. Take a romantic weekend away together. There is no need to head to a far-flung destination, as a local Bed &Breakfast would be just as lovely a place to spend time with each other and to forget about the hassles of everyday life.
32. Call in absent from work and spend some exclusive time with each other. Your anniversary is the perfect time to reconnect, so ignore your emails and phone, and just appreciate spending time with each other.
33. Re-enact your first date by replaying your activities. If you have moved to a different location, you could still simulate the theme of the day by going bowling, watching a movie or eating fast food, just like you did that first time.
34. Make a special customised gift that matches the theme of your anniversary year, for example silver is for the 25th anniversary and gold is for the 50th. Most years have specific themes which you can check out here on Anniversary Gifts by Year.
35. Decorate your loved one's car with pictures and messages by using a window marker. You could even spread some flowers over it as a romantic touch.