Mother's Day in the UK
Mother's Day—a day of breakfast in bed, handmade cards and plenty of appreciation for the hard work our mums put in yearlong. Though the way this day is celebrated may differ around the world, taking a moment to recognise the maternal figures in our lives is a global tradition and one we consider extremely worthwhile.

With that in mind, we're covering everything you should know about celebrating Mother's Day in the UK, from day trips to perfect gifts. We'll be covering the dos and don'ts you need to be aware of to ensure everything goes according to plan.
Dos and Don'ts for Mother's Day
There isn't one set way to plan the perfect day to celebrate the maternal figures in your life, but there are certain things you should definitely do and some things you have to avoid.
DO: Reward them with a lie-in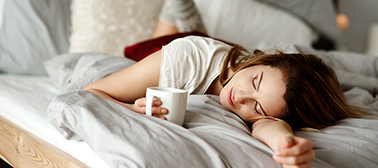 When it comes to planning the perfect Mother's Day, everyone knows that it begins with a well-deserved lie-in. Whether she's a night-owl or an early riser, no mum is going to turn down the opportunity to have a few more minutes of peace and quiet in the morning.
DON'T: Let the kids cut the lie-in short
Having your kids tumble into your bed first thing in the morning may seem like a cute way to wake your partner up, but in reality, it can be a jarring start to a day that's supposed to be about rest and relaxation. Keep your children at bay until mum has had a good chunk of time to herself, and that way you know her day is off to a good start.
DO: Bring her breakfast in bed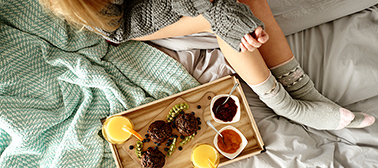 A leisurely breakfast is a Mother's Day must-have and should definitely be on your to-do list. It doesn't haven't to be eggs Benedict with a perfect hollandaise sauce, but put in a little effort into what you make so she knows you've been considerate. Consider making pancakes or a nice smoothie and make sure you get the kids to carry it to the bedroom.
DON'T: Forget to tidy up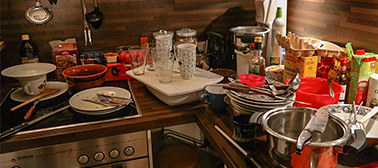 Nothing ruins a leisurely morning more than having to deep-clean the kitchen straight afterwards. If you do cook up a nice breakfast, then make sure you've tidied away the evidence before she heads downstairs. This is especially important if your children decided they wanted to be chefs for the day—those little hands always manage to make a big mess!
DO: Embrace the handmade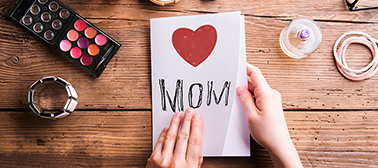 Mums love it when their children make a bit of effort, which is why a handmade card is sure to win you and your children some serious brownie points. Ignore the expensive cards in the shops. Buy a few craft materials and get your children to make something together. If you're buying for your own mum, then chances are she no longer expects a card with your handprint in it, but that doesn't mean you can't make something unique that will make her smile. Make your mum a playlist with all her favourite songs on it, print and frame a beloved photo of the two of you or, if you're feeling really creative, try your hand at making her a bespoke mug that she'll use each time she settles down for a brew.
DON'T: Forget the card
One thing you can't afford to do is forget to get or make a card. If you're buying on behalf of your children, then make sure you get a card that uses the word they call their mum by, whether it's Mummy, Mum or Mother. Get them to take some time writing their own message inside and keep anything sticky away, please! No one likes to find sticky finger marks inside their card.

If you need to put your card in the post, make sure to do it in plenty of time before. Remember—there's no post on Sundays!
DO: Pace yourself
By this, we mean don't exhaust yourself by cooking a gourmet breakfast fit to feed a horde. You only need to cater for a small number of people, so don't go overboard, or you'll risk tiring yourself out and making the rest of the day a little lacklustre. Make a plan for the day that includes activities and relaxation, and you're onto a winner.
DON'T: Think Mother's Day ends at breakfast in bed
Mother's Day is a whole day to celebrate the mothers in your life. That means it begins at sunup and ends at sundown. You won't be let off the hook if you orchestrate a fantastic breakfast in bed but then do nothing else all day!
The perfect Mother's Day should incorporate things that your mum or partner really love to do alongside rest and family time. Breakfast isn't the only time of day when they should be made to feel special.
Mother's Day in the UK
In the UK, Mother's Day is formally known as Mothering Sunday and is celebrated on a different day from year to year. In fact, Mother's Day in the UK is always celebrated on the fourth Sunday of Lent, which is three weeks before Easter Sunday.
The origins of Mother's Day in the UK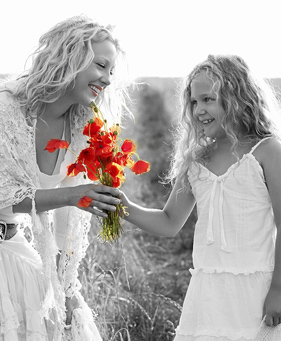 Unlike in America and other countries such as Canada, Australia, Japan and more, Mother's Day in the UK has its roots in ancient times. The ancient Greeks would hold an annual springtime festival dedicated to maternal goddesses. In turn, the Romans held a similar festival called Hilaria, which was held in honour of the mother goddess Cybele.

As with many ancient religious days, this was later adapted into a Christian holiday, whereby it was used as a day when people would visit their 'mother' church, which was either your local parish or where you were baptised. The day became a national holiday, and everybody was guaranteed time off from their places of work. As a result, being able to spend the day with family meant it eventually developed into a day of spending time and appreciating your mother. Now the day is focused more on celebrating the maternal figures in our lives than on religion.
Traditional bakes for Mothering Sunday
As Mother's Day was closely associated with Lent, a time of fasting, certain confections began to be made as a nod to the significance of the day. Often these sweet treats would be the only sweet thing eaten during the long weeks of Lent when people would abstain from eating anything other than simple foods.

Though they're now more popular in Australia than the UK, one of the original bakes made to celebrate the day were Mothering Sunday buns. These sweet buns were covered in either white or pink icing and sprinkled with hundreds and thousands. In Northern England and Scotland, a more savoury item was favoured: a type of pancake known as a 'Carling' and made from steeped peas fried in butter.

However, one of the most well-known delicacies baked especially for Mother's Day in the UK is the Simnel cake, a light fruit cake covered in marzipan.

How to make a traditional simnel cake
With its close connection to Easter and Lent, it's not surprising that the traditional cake gifted and eaten on Mother's Day in the UK is one with religious connotations.
Simnel cakes
are often decorated with eleven balls of marzipan, which is said to represent the 12 apostles minus Judas.
What mums really want for Mother's Day
Whether it's baking a traditional simnel cake or taking her out for the day, we all do our bit to make our mums feel appreciated on their special day. However, sometimes we fall short of the mark, whether it's a day out with all the family that ends up being a little too hectic or an ill-thought-out gift that left a lot to be desired. It's clear that there are some things that should be avoided at all costs when it comes to Mother's Day, but what are they exactly?
Why you should celebrate Mother's Day
For some, Mother's Day may seem like yet another day where gifts have to be bought and plans have to be made. When you consider the preparation and money that go into annual events such as Christmas and birthdays, it can all begin to feel a little overwhelming.
However, Mother's Day doesn't have to cost the earth, nor does it have to require a lot of planning. At its most basic level, the day is about taking a bit of time to appreciate and recognise the mothers in your life, whether this is the mother of your children or your own mum.
Over the years, these women have likely raised multiple children, washed copious mounds of laundry and looked after your every need. Whether you're male or female, 15 or 50, your mum will always work her hardest to make sure you're cared for.
In recognition of this devotion, taking just one day a year to actively demonstrate your appreciation is essential. Show your mum just how much you love her this year and make sure to spoil her in the way she deserves.
Being a mother is a full-time job, but some of these mothers managed to make a big impact whilst tirelessly caring for their family.
Mothers who made a mark in history







Marie Curie | Physicist | 1864–1934
The first woman to win a Nobel Prize and one of only four to have won two in her lifetime whilst still alive, Marie Curie also succeeded in raising two daughters alone after her husband passed away.
J.K. Rowling | Author | 1965
An author celebrated around the world for the magical world she created in her series of Harry Potter books, J.K. Rowling attained this success while struggling on government assistance as a single mother.
Benazir Bhutto | Prime Minister | 1953–2007
Already a mother of two when she became the first female head of a Muslim country as the president of Pakistan in 1988, Benazir Bhutto also became the first head of a government to give birth whilst in office, which she did in 1990.
Ada Lovelace | Mathematician/Computer Programmer | 1815–1852
Lauded worldwide as the first computer programmer, Ada Lovelace did some of her best work when her children were between 6 and 10 years old. She was ahead of her time in believing computers could do much more than simply calculating numbers.
Mary Angelou | Writer and Civil Rights Activist | 1928–2014
One of the most accomplished American writers of all time, Mary Angelou became a single mother at just 16 years old. Much of her writing reflects on the motherhood experience: 'Mothers have the ability to liberate by love or, by neglect, to imprison. They're our first teachers; they are our first loves.'
Irena Sendler | Humanitarian | 1910–2008
A mother of three children herself, Irena Sendler smuggled 2,500 children out of the Warsaw Ghetto during World War II. Withstanding torture and constant danger, Irena saved more Jews from the Holocaust than any other individual citizen.
This is just a small selection of women who have made a mark in history whilst being successful mothers. Can you think of anyone else?
Unique ways to spend Mothering Sunday in the UK
If the mother that you're celebrating enjoys doing things a little differently, then planning something completely unique is a great idea. Not only does it show that you put a lot of thought into the day's activities, but also it'll be a memory the two of you will hold on to forever.

Down under
Go Below is a unique caving experience in North Wales, taking place in the abandoned mines of Snowdonia. Activities you'll take part in include abseiling, boating, climbing and zip lining, to name a few. In the same corner of the world, you'll find Bounce Below, an 'underground playground', where you'll bounce along disused mines, accompanied by brightly coloured lights that highlight the natural scenery around you. This is a great option if your partner feels like acting like a big kid themselves and really letting their hair down!

Botanical garden
There is a wealth of botanical gardens throughout the UK, and they're a great day out no matter the time of year or the group you're with. Most botanical gardens have small animals or activities for children, which means you don't have to worry about keeping them entertained. You'll also find restaurants or cafes, as well as gift shops, to keep everyone well-fed and entertained.

Some of the top botanical gardens in the UK include Royal Botanic Gardens Kew, Belfast Botanic Gardens and various university botanical gardens across the country.

Theme park
Is the mother you're celebrating a bit of a thrill seeker? There are plenty of top-tier theme parks in the UK to help get her adrenaline running. So if you're looking for a unique activity for Mother's Day, then a theme park certainly ticks that box!

Alton Towers, Thorpe Park, Blackpool Pleasure Beach and Drayton Manor are just a small selection of the entertainment on offer throughout the country.

Hire a boat
As an island, the UK is surrounded by water, but it's also interconnected by a vast map of canals that were once used for transporting goods throughout the country. Make the most of all this water and take your mum on a scenic boat trip that will combine relaxation and entertainment with some local culture.

You could take a speedboat out on a lake, hire a canal boat for the day, charter a small vessel to help you navigate through the Fens or lean back and relax on a pleasure boat. Pack some snacks and refreshments and make sure you remember your camera!

Cooking class
We all get used to cooking the same things, and learning to make something new can take up a lot of time—and patience! Take a step out of your comfort zone by booking a cooking class that focuses on a cuisine you and your mum haven't quite mastered yet. There are plenty to choose from, and many last a whole day, meaning you're catered for throughout.

One of the best things about spending Mother's Day in this way is you usually get to take all the food you made home with you afterwards!
How to spoil your partner on Mother's Day
As we've already covered, your mum isn't the only mother that should be celebrated on Mother's Day. If you and your partner have children, then this day is for her too, and it's the one day of the year where she should be utterly spoiled and without responsibility all day long.
For this day, it's definitely worth considering activities that can be done with or without you or your children as mums often just want to have a little time to themselves.
With the kids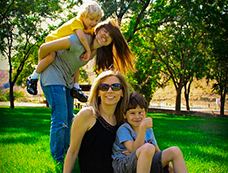 Your partner may wish to spend all day with her children; they are, after all, the reason why she is a mother. If this is the case, then plan accordingly. Any activities you do need to be fun for you all but not too taxing. A local waterpark could be good fun as could a zoo.

If you plan to spend your day in this way, then make sure you do all the planning. This includes preparing packed lunches to take with you and packing bags full of all the stuff you'll need. For an extra special treat, pack gifts from the kids inside their bags so that they can gift them when you all sit down to eat together.
Adults only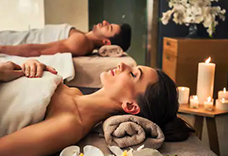 A spa retreat is the perfect way to spoil your partner if you opt to spend Mother's Day without the children. For a real touch of luxury, consider booking a hotel for the night so that your partner can enjoy a lie-in either on the day or afterwards.

If you don't have enough time for a spa day, then plan to do your partner's favourite activity, whether it's going to the cinema or walking along the coast. You don't have to break the bank to put a smile on her face.
Without you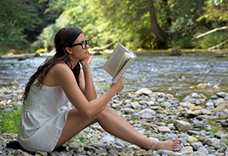 Having little ones means it's more likely that your partner doesn't get to see her friends or family as often as she used to. Use Mother's Day as an opportunity for her to properly unwind without having to tend to scraped knees and lost toys.

Let her know in advance that you'll be taking the children all day and that she is free to make plans. This way, she'll have plenty of time to organise an evening with her friends or perhaps a trip to see a long-distance friend or relative.
Creative Mother's Day gifts for your mum
There are plenty of gifts that are marketed to mothers, but no two mums are the same. An extra-special touch is to consider her interests and character and aim to get gifts that reflect these.
Voracious reader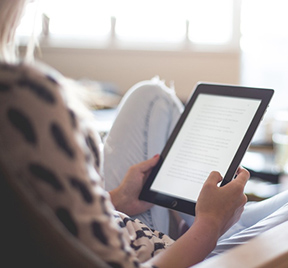 If your mum likes to get her nose stuck into a good book, then you're onto a winner. There are plenty of reading-based gifts that will help put a smile on her face, and there's even something for every budget.

If your budget is a bit smaller this year, then a nice book is an obvious choice. However, you could also buy her a beautiful bookmark that will make her think of you each time she finds her place or a book light that will make sure she doesn't have to strain her eyes.

If you've got a little bit more cash to spare, then consider purchasing a book subscription. There are many different options to choose from, but most of them consist of a regular book delivery that suits the personal reading tastes of the subscriber. Yet another gift you could consider is an electronic reading device, which would allow you to preload a whole library of books for your mum to get lost in.
Foodie
Many of us would describe ourselves as foodies either because we really love discovering new cuisines or because we're a dab hand in the kitchen. If your mum fits this description, then there are many different gifts that would suit her down to the ground.

You could spend Mother's Day taking her to a cooking class, or you can keep your gift simple by adding a new recipe book to her collection. Consider purchasing investment pieces for her kitchen, such as good-quality cookware or electricals she would never treat herself to.

If you would prefer to gift something a little more personalised, then you could create a simple book stand or perhaps a unique spice blend that she can use to easily create her favourite dish. If she has a favourite dish from a local restaurant, see if you can get hold of the recipe for her; that way, she'll be able to eat her favourite meal whenever she wants!
Elegant and refined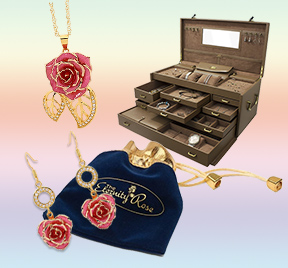 Does your mum always look smart and refined, no matter the occasion, with barely a hair out of place? If this sounds like her, then pay homage to her ability to always being perfectly put together with some jewellery that will help to add the finishing touch to any outfit. Our Rose Petal Jewellery sets come in an array of colours and consist of 24 karat gold partnered with real miniature glazed rose petals, ensuring that each set is completely unique just like your mum.

If you think she's already got enough jewellery, then you could invest in a jewellery organiser that will help to keep her selection neat and tidy just like her. If you would prefer a homemade touch to the gifts you give your mum this year, then consider making her something that will help her stay organised, such as a marbled clay ring dish that you can make yourself.
The ultimate Mother's Day gift guide for your partner
Knowing what to buy for your partner is easier if you focus on her character and passion. Thankfully, we've broken down the different things you can consider purchasing to make sure you get the perfect gift.
The culture queen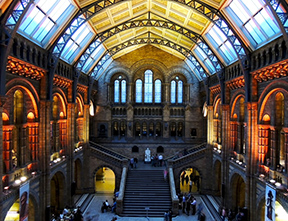 If your partner loves nothing more than whiling away her time in a museum or soaking up the atmosphere in the local gallery, then there are a few gifts that are perfect for her. Most museums and galleries are free in the UK, but for the few that aren't, buy her a pass, such as a National Art Pass, which will give her access to 240 museums, galleries and historic sites across the UK and 50% off major exhibitions.

You could also buy her a piece of art for the home or a book that details her favourite genre of art or period in history. If you would prefer to gift something that is a little more personal, then get your children to create a unique piece of art that will take pride of place in your home.
Girly and cute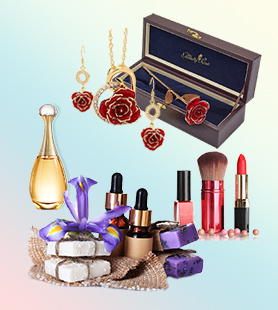 If your other half fits the 'girly' description, then there are a wealth of gifts that are bound to make her day. Typical Mother's Day presents include flowers and jewellery, and these will definitely fit the bill for your partner.

If you're finding it hard to decide on the perfect piece of jewellery, then our range of glazed rose earrings are unique and make the ideal gift for a fan of ladylike pieces. They'll help add an elegant and feminine touch to any outfit.

You could also put together a selection box of beauty treats that will definitely win you some brownie points. Get your hands on a nice gift box and fill it with a few of her favourite beauty treats. For an even sweeter touch, get your children to choose a few bath bombs to fill up the rest of the space in the box—they'll love telling mum which ones they picked out for her!
A self-professed nerd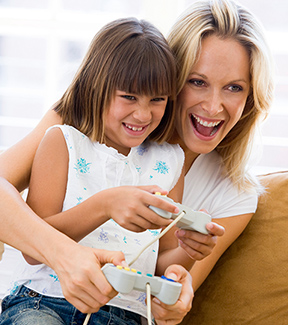 Gadgets, games and popular culture amass big followings and not just amongst the male population. If your partner is one of the women that is into these kinds of things, then getting gifts that suit her shouldn't be a difficult task.

It's likely that you already have your fair share of gaming consoles at home, so consider purchasing a new game that you can all play together as a family. You could also buy new controllers and gaming accessories that make it easier for you to play in teams.

If you would like to gift something that is solely for your partner, then brush up on what TV shows, films, games and books she is obsessed with. Nowadays you can get jewellery, makeup, clothes and accessories that relate to popular shows, so it should be relatively easy to find. If your partner has a soft spot for Disney, then make her feel like a real heroine with our Red Natural Rose, whose petals will never fall. Trimmed with pure 24 karat gold, this flower will surely take pride of place on your partner's dresser.
Unique Mother's Day gifts for your grandmother
Grandmothers can be a little trickier to buy for, and you definitely don't want to disappoint the matriarch of the family. To make sure you get it right, we've got the lowdown on what you should be buying depending on her interests and character.
Green-fingered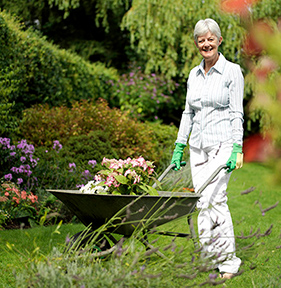 If your nan likes to potter around the garden, then there are few gifts you could buy that would prove very useful, such as a kneepad, gardening gloves and a hat to keep the sun off her neck. However, for an extra special touch, consider getting your hands on some personalised gardening tools that she can take with her whenever she needs to do a spot of weeding. Another idea would be to put together a miniature gardening box full of seeds for her to grow in her garden.

If she's a fan of blooms but not such a big fan of having to tend to them, then another option would be an eternity rose, which has the benefit of being as beautiful as a real flower with none of the care requirements!
The entertainer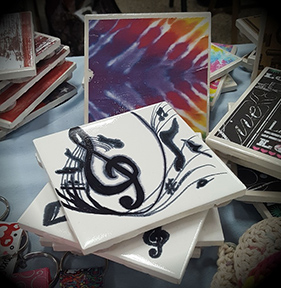 Whether she is a phenomenal party organiser or is the head of several local committees, your grandmother is excellent at holding a get-together. Let her know that you've noticed just how good she is at being the hostess with the mostest and gift her something she'll find genuinely useful.

Everyone fears ring marks from glasses on their expensive furniture. Ensure your grandmother doesn't have to worry by creating and gifting a set of DIY coasters. That way, she knows there are plenty of coasters to go around! Find a range of options for creating your own here.

You could also consider getting a flower subscription for her, which will make sure she always has fresh blooms in her home when it's time to entertain.
Artistic and spontaneous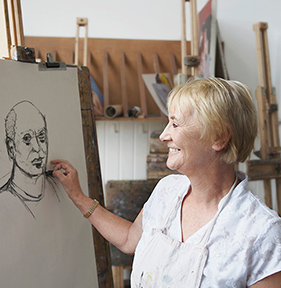 If your nan is rather impressive at painting or drawing or just likes to try her hand at new things, then it should be relatively easy to get her gifts that will suit her talents.

A new sketchbook and instruments, such as paints, pencils and graphite, will be appreciated, but it might be more touching to purchase a class pass for her. Many classes are held around the country that are intended to introduce new forms of art to beginners, including pottery, life drawing, metalwork and more.

Of course, with a gran who appreciates artistic expression, it's likely that she'll appreciate the handiwork of any grandchildren too. If you have children, encourage them to create their own piece of art to give to their great-grandmother.
An ode to all mums
Curating a playlist from an old mixtape may be old-fashioned now, but you can still create and share a playlist that will put a smile on your mum's face.

Our mothers are special women, having worked hard to rear and sacrifice everything for their children. No matter how often you see your own mum, make sure you spoil her this Mother's Day and show her just how much she means to you and all the family.