A Guy's Complete Guide to Valentine's Day
Valentine's Day - the day of love, secret admirers and chocolates in heart-shaped boxes. As time has passed the usual treats the day is associated with are beginning to feel a little old-hat and it can be difficult to think outside the box. Thankfully, if you're looking for ideas for novel gifts and surprise activities that will make your partner's jaw drop then you've come to the right place. In this article we're covering every aspect of this special day, from what gifts you should be buying depending on your relationship status, to how you can celebrate the day with those non-romantic loves in your life.

No matter your Valentine's woes we've got all the information you need to pull of the perfect Valentine's day in the UK without a hitch.
Valentine's Day Dos and Don'ts for men
More often than not the responsibility of organising a special treat on the day of love is a burden for the man to bear. However, it's important to think of it as a special opportunity to prove your love rather than another task to complete. Here we've broken down some simple do's and don'ts to make sure your day of love is particularly swoonworthy.
Fail to plan, plan to fail
The problem with Valentine's day is everyone has their own individual expectations of how they think the day should go. For this reason it makes a lot of sense to have a frank discussion with your partner about what they would like to do on the day.
You may discover that your partner's perfect day includes a takeaway and film at home, and that an extravagantly planned date would be somewhat of a disappointment to them. If you're in a new relationship this conversation is particularly important. So, book in a chat with your partner before you book that hot air balloon ride!
Steer clear of the teddy bear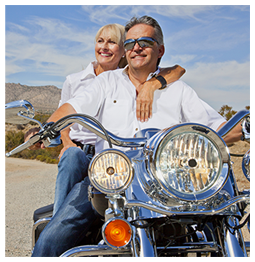 Something we would also recommend you talk about is whether or not you'll be giving gifts to one another. Though it's traditional to give gifts on this day, your partner may find it an unnecessary expense. They may even prefer that you pool your money together for the purposes of booking a romantic weekend away.
If you do decide that gift-giving is essential for the two of you then agree on a budget and think about what you buy carefully! Avoid cliche presents at all costs and consider your partner carefully. Think about what she loves and what her hobbies are for a unique gift that will really make her smile. According to psychologists, gift giving can help you to feelconnected and committed to your partner, as well as encouraging the release of positive hormones in the body, which is why it can be nice to splash a bit of cash at this time of the year.
Opt for the romantic gestures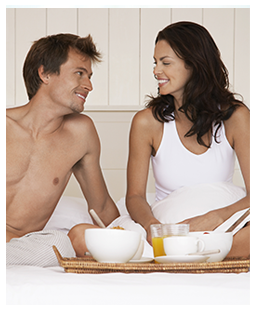 Whether you decide to stay in or head out, give gifts or save your pennies, you can still charm you sweetheart by acting like a model gentleman. Meeting her at work to escort her home, holding doors, pulling out chairs and taking her coat are all small things that will let her know how much you care without having to go the extra mile. After all, the love you show for your partner is in the smaller, everyday things, like making them a cup of tea first thing in the morning. Consider the things that will brighten up their day a little and do them.
If you do decide to go out for a meal then definitely don't turn up in your work clothes. If you work in a suit everyday then make sure your shoes are clean, your tie is neat and you have some aftershave to hand. And if you've had a hard day at work and the emails are still flying in to your inbox then resist the urge to check them at the table. In a survey 64% of people revealed that they found it unattractive for someone to pay too much attention to their mobile when on a date.
What to Avoid At All Costs?
Now you know the basics it's time to brush up on what mistakes you can't afford to make.
DON'T forget the day. It's a long running joke that men are forgetful when it comes to days like birthdays and anniversaries, but that doesn't mean you can get away with it. There'll be enough heart-shaped things in shop windows to act as reminders so make sure you pay attention! Put a note in your calendar as soon as you can.
DON'T give lingerie unless your partner has asked for it. This day is about love and you don't want your partner to think your mind is only on one thing. You also don't want to get the wrong size and risk them thinking you don't know them well enough.
DON'T get a generic card and just write your name in it. This may be the most disappointing thing you can do. By all means, buy a cheap card, but if you do nothing else make sure you take the time to write a thoughtful note in it about how much your partner means to you. Love letters have died out in the age of text messages and emails but they're something everyone really cherishes.
DON'T overspend, especially if you share finances. Though it's fun to indulge one another in lavish gifts, any enjoyment you get out of this will soon be dampened when your bank balance is a little smaller than you'd like. Spend within your means and you'll enjoy the day a lot more without having to worry.
DON'T be unrealistic. Work, children and other activities keep both of your lives busy every other day of the year so be practical about what the two of you can get up to on the day. For example, if you or your partner tend to work late it may be worth delaying your celebrations until you have a day off together. Consider your usual routine and whether your plans would be difficult to squeeze into that.
The different levels of Valentine's Day
More often than not the responsibility of organising a special treat on the day of love is a burden for the man to bear. However, it's important to think of it as a special opportunity to prove your love rather than another task to complete. Here we've broken down some simple do's and don'ts to make sure your day of love is particularly swoonworthy.
A new romance
If you're testing the water with a new romance then Valentine's day can be a bit of a minefield. If you've recently become an official item then acknowledging the day in a small way is your best option, but if you're not yet a 'thing' then it can be hard to know what to do.
If you're stuck on how to spend your day together then consider cooking for one another or heading out to a nice pub for a few drinks. At this stage in your relationship it's important to not go overboard and scare them off, so unless you know your partner is expecting a big fuss then play it cool.
When it comes to what to buy then steer clear of anything that says 'I love you' on it. If you've not said these magic words yet then this will only set off alarm bells. This means no twee teddy bears holding satin heart-shaped cushions!
Potential gift ideas:
Think of them first.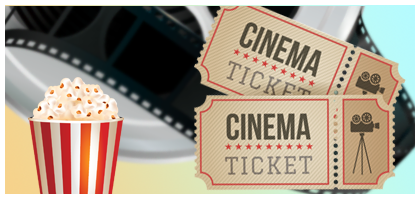 Instead it might be sweet to buy something related to your partner's interests, such as a cinema pass if they're a big film fan. At this stage in your relationship your gifts should be similar to what you would give to a close friend; you want to let them know that you think of them but not that you spend all day doing so.
Their favourite treat.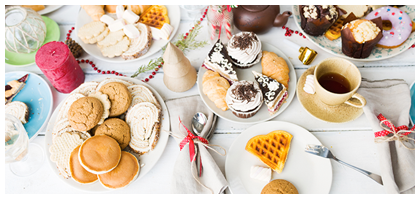 Does your new love interest have a soft-spot for something that's a little hard to come across? Indulge them by bulk-buying their favourite treat, such as a box of their favourite pick and mix sweets, an armful of their favourite biscuits or even just one item that they love but always struggle to track down. A gift like this shows them that you've been listening all along.
Officially an item
You've been together for a few months, or maybe even a year or two, and things are starting to get serious. At this point you'll probably have said 'I love you' and you may have had serious conversations about your future together. In this scenario you should use Valentine's day as an opportunity to let your partner know how serious you are about your future together.
A dinner date, an evening at the theatre or a cooking class could be the perfect way to spend your day together. Not only does it show your partner that you've put some thought into the day but it also means you get to spend time together doing something you both enjoy. However, if you decide a treat like this isn't enough of a gift in itself then you may be eager to find a present that won't disappoint.
Potential gift ideas:
An electric toothbrush to stay at your place.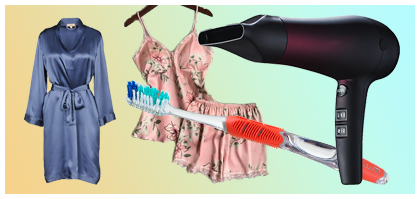 If you haven't moved in together yet then a gift like this is a way to make travelling to and from your place a little easier. You could also opt for a new set of pyjamas, a dressing gown or a perhaps a hairdryer. Short on funds? Try clearing out a drawer for them to keep some more permanent things at your place; it's a small gesture that will leave a big impression.
A smaller piece of jewellery.
A nice necklace or bracelet is definitely a way to show that special person that you care, as well as a sure way to put a smile on their face! Just make sure any box the jewellery comes in couldn't be mistaken for one suited to an engagement ring .
Committed to one another
Living together, engaged or perhaps planning a family; it's clear to everyone that you're head over heels for one another. You no longer need to worry that your other half will be put-off by any overly romantic gestures, which means you can really push the boat out if that's your style.
It also means you're at a stage in your relationship where you're able to be truly comfortable in each others presence so there's no real need to worry that you're going to make a misstep.
Potential gift ideas:
Gifts for your home
If your partner is house-proud or just a big fan of interior design then consider getting them a gift to reflect this interest. You could buy a piece of art or a plant, or even the Platinum Dipped Rose & Vase set, which will add interest to any room in your home and serve as a constant reminder of your devotion. If you'd like something personalised then consider getting a favourite photo of the two of you together printed and framed; smaller gifts like these can often be the most loved.
Spirit your love away
A surprise getaway to a place you've always spoken about visiting together could be the perfect treat - especially if you and your partner share a love for travelling. Flights to Europe from the UK can often be found at bargain prices, so this doesn't have to cost the earth.
Married
Being married means you know your partner inside out. You'll know whether their perfect Valentine's day involves a lavish date or getting into pj's and watching a favourite film.
Potential gift ideas:
Woo your wife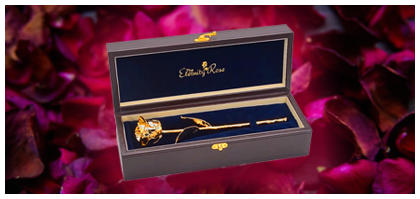 Traditional Valentine's gifts are traditional for a reason so why not indulge her with some red roses? After all, as the love of her life you're the only one who has the privilege of buying her those particular flowers. Better yet, make sure this is a Valentine's to remember and opt for our 24 Karat Gold Dipped Natural Rose. You could even have it delivered to work for a real surprise.
Soak your cares away
As we get older the responsibilities pile up and they begin to take up more and more of our time. As a result we're likely to feel a little frazzled. Take some of the weight off your spouse's shoulders and treat them to a day at the spa. And if your budget is looking a little tight this year? Gift your loved one a coupon for a distraction free bath. During this time you'll promise to keep the children quiet and out of the bathroom whilst they indulge in a little bit of me-time.
Single on Valentine's Day?
Not all of us are coupled-up. If you've got a soft spot for a certain someone this Valentine's day then why not ask them out? In fact, the saying 'wearing your heart on your sleeve' comes from the Medieval Valentine's tradition of pinning the name of a potential love interest onto your sleeve. If you'd like to be honest about your affections then there's no better time than now!
If you're considering a gift to accompany your proposal then think small; you don't want to scare them off with an over-the-top present that makes them feel like they have to say yes. Showing them you're interested in them is the best way to find the ideal gift.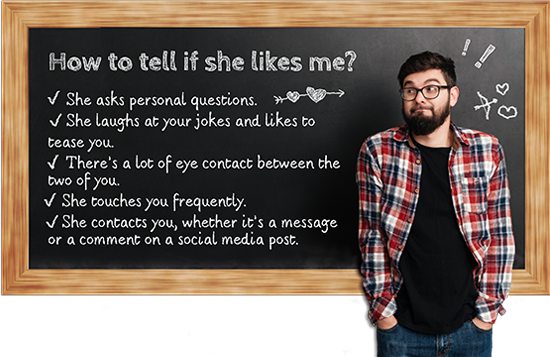 Have they mentioned a book they would really like to read or do they religiously drink a certain brand of tea? Cute, thoughtful gifts like these show that you pay attention and think about your conversations a lot.

However, before you build up the courage to ask them to be your valentine you may want to look out for these signs, which will help you to know if a woman likes you.
Why you should celebrate valentine's day
Valentine's day is a day of love for all, no matter your current relationship situation. In fact, in more recent years it's become ever more popular to celebrate non-romantic love or even self-love. This has made the day into one which everyone can look forward to, whether you want to indulge yourself in a spot of self-care or feel the need to show your closest friends just how much you appreciate them.
With that in mind it's important that everyone feels like they can celebrate this day and do something special, especially as a chilly February leaves everyone in need of a special treat.
In a relationship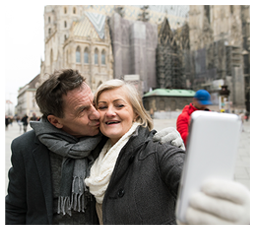 Often couples old and new feel like making a fuss of Valentine's day can feel forced or unnecessary but why not celebrate a day where you show your loved one how much you care? If you're in a new relationship celebrating the day of love can help to indicate to your new partner just how much you care for them, without having to say those three magic words if they've not yet passed your lips.
If you have been married for years then there's even more reason to show your partner how much you appreciate them. After all, where would you be without them? Us Brits can often be a little reserved when it comes to displaying affection but there's no better time than Valentine's to buck that trend.
Celebrating your friends
As we've already pointed out, Valentine's Day is no longer about just romantic love. Non-romantic love can be celebrated too with days such as Galentine's Day, where female friends treat one another to gifts and days out to show their friends just how much they appreciate their support.
Galentine's day actually occurs on February 13th and became established in popular culture as a result of the hit TV show Parks and Recreation. In the Galentine's episode the character Leslie Knopes treated all her female friends to waffles for breakfast, during which they exchanged gifts and compliments. If you're feeling stuck for ideas take a leaf out of Leslie's book and celebrate over breakfast - a great way to start any day.
Spread the love to the workforce
And friends aren't the only group of people you can celebrate either. Make Valentine's day completely your own and treat those who brighten up your day on a regular basis. For example, you spend the majority of your year with your colleagues so why not spread the love to them, too?
You could take it upon yourself to organise a Valentine's lunch or love-themed bake sale. If you fancy something that requires a little less planning then consider leaving secret admirer cards and chocolates on the desks of everyone in the office - a great way to boost morale and start a conversation.
Low-key Valentine's Day
Valentine's day is a great day to really go wild, a time to shower your love with affection and treat them as the special person they are. However if low-key celebrations are more your thing then there's really no reason why you can't make this day into something that's more suited to your tastes.
If you'd really like to take the pressure off this Valentine's day then there are plenty of things you can do together without having to plan and prepare.
Movie night
A film is always a good choice but if you find the cinema too crowded with couples going to watch rom-coms then enjoy your film at home instead. Rent a film you've been meaning to watch together for ages, grab some snacks, get under the duvet and turn the lights off. If you opt to stay at home then make sure you follow cinema rules: no talking, no pausing the film and strictly no phones! It'll make you much more absorbed in the movie.
Can't decide what to watch? Opt for typical British rom-coms such as Notting Hill, Four Weddings and a Funeral, Bridget Jones's Diary and About Time for something heartwarming.
Cook together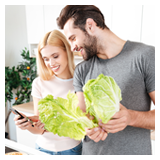 There's no reason to fight the crowds for a meal out on Valentine's day. Stay in and cook together instead! You can make this as planned or as spontaneous as you like. For example, you could play a game of 'kitchen sink' where you manage to make a meal out of only things that are already in the house.
Worried about your cooking skills? Don't make it too complicated; stick to firm favourites like a comforting roast dinner with all the trimmings or perhaps something you can make in advance, like a hearty pie. It is still winter after all!
Take a hike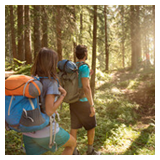 If the weather is pleasant then wrap up and go for a walk. There are great walking routes all over the UK, such as throughout Wales, the Lake District and along coastal paths around the country. Leave your phones at home or in flight mode so that you can completely switch off and spend some quality time together.
Overdoing valentine's day
Of course, not everyone knows their partner well enough to know what type of date will suit them down to the ground. If you're in a new relationship or just want to do something out of your comfort zone this year then it's crucial you know what mistakes to avoid. You don't want there to be any awkwardness if you can help it!
Steer clear of PDA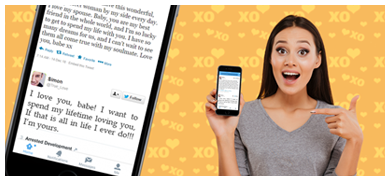 Actual public displays of affection, such as cuddling and kissing, are par for the course when you're in a new relationship but it's important that you know where to draw the line. Flash mobs, organising a band to serenade you as you eat, long soppy posts on social media . . .these are all things you should definitely be avoiding.
Keep looking forwards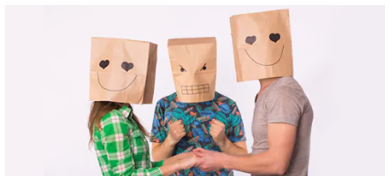 Valentine's day can stir up a lot of emotions, and not all of them positive. By all means talk about your disastrous Valentine's days of the past if they're funny stories, but NOT if they involve a long-term ex who meant a lot to you. A girl you ran into in a bar? Fine. Your childhood sweetheart who you still keep in touch with now? You're better off keeping that story to yourself.
Avoid big commitments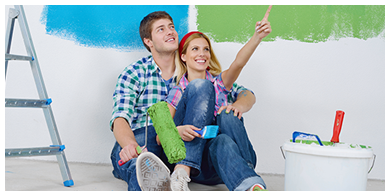 If you've planning to propose this Valentine's and you know your partner would love it then we're not going to tell you you shouldn't. However, if you're planning on making a big commitment to your partner, and you're not completely certain that her answer will be a positive one, then leave it for a different day.
Valentine's day comes with a lot of pressure and expectation. You don't want your partner to feel backed into a corner about anything as important as marriage or moving in together.
Cool Valentine's Day Winter Activities in the UK
Valentine's Day can get chilly in the UK but that doesn't mean you can't get creative with your winter date ideas. If you've decided to avoid the traditional dinner date and embrace the cold then you'll need to do it properly.

First of all, prepare! Let your date know well in advance if you're going to be outside so that they can dress accordingly.
Romantic winter weekend breaks





Make the most of local attractions
If you live close to country homes and grounds that are open to visitors then make a day of it. It's a great way to understand the history of your local area. If this isn't really your bag then consider making use of nearby museums and galleries too. The great thing about these is that, in the UK, entry is free!
Go ice skating
Embrace the chilly weather and get on the ice. It might not be strictly outdoors but you'll need to be wrapped up warm to make the most of this date. It's a great way to get to know another and you'll be able to dispel any awkwardness by 'accidentally' falling over.
Go sledding
If you're lucky enough to have experienced some snowfall in your local area then grab a sled and head to the nearest slopes. Pack a thermos with hot chocolate and some snacks for you both to enjoy in the car and you're set!
A leisurely stroll
Eager to show your date your neck of the woods? Why not wrap up warm and go for a stroll. If you live in an area with nice walks then even better! Afterwards head to your nearest pub to warm up in front of the fire with a drink in hand.
Head to the zoo
Off-season at the zoo means you're likely to get cheaper entry as the colder weather means lower visitor numbers. Stick to the warmer parts of the zoo such as bat caves and tropical zones and your date won't get cold feet!
Make the most of local attractions
If you live close to country homes and grounds that are open to visitors then make a day of it. It's a great way to understand the history of your local area. If this isn't really your bag then consider making use of nearby museums and galleries too. The great thing about these is that, in the UK, entry is free!
Go ice skating
Embrace the chilly weather and get on the ice. It might not be strictly outdoors but you'll need to be wrapped up warm to make the most of this date. It's a great way to get to know another and you'll be able to dispel any awkwardness by 'accidentally' falling over.

Valentine's Day in the UK
How you spend the day of love differs depending on where you are in the world. In Japan for example, women give gifts of chocolate to men on Valentine's day and they return the favour on March 14th, a day known as 'White Day'. In most Western countries Valentine's is celebrated with chocolates, flowers and anonymous cards with the sign-off of 'your Valentine'.
The history of Valentine's
In the UK, Valentine's day is descended from the pagan fertility festivals of Lupercalia. It first became associated with romantic love when Chaucer wrote 'For this was on St. Valentine's Day, when every bird fowl cometh to choose his mate' to celebrate the engagement of King Richard II to Anne of Bohemia in 1382. By 1601 the day was well-established as one of love and in 1840 the introduction of the Penny Post meant sending Valentine's cards had become widespread.
How we celebrate in the UK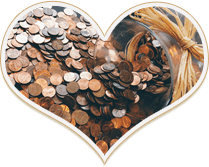 Valentine's cards are just as popular now as they were back then, with Brits spending a reported £53 million on the paper missives in 2017 (and the same amount on confectionery!). But that isn't all us Brits are spending our hard-earned pennies on.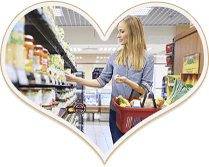 Apparently a nation that loves an evening spent indoors, in 2017 we spent £128 million on food and drink consumed in the comfort of our own homes.
And for gifts? In 2017 alone we spent £112 million on jewellery, £102 million on flowers and £80 million on clothing or footwear. And they're only the most popular gifts!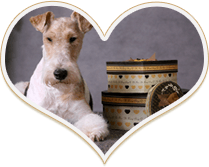 An interesting piece of information is that Millenials are the most likely to spend money on their cat or dog on this day.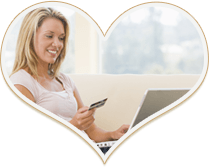 They're also twice as likely (3.5%) to spend money on themselves than 1.3% of Gen Xer's and 1.1% of baby boomers.
In Wales their own Valentine's day is called 'Dydd Santes Dwynwen' and is celebrated on the 25th of January. St Dwynwen was a 4th century Welsh princess who became a nun and prayed for true lovers to be lucky in their endeavours. In Wales it's customary to carve and gift love spoons on this day, which are usually decorated with hearts, keys and keyholes.
On Valentine's eve, Lancashire lads and lasses used to draw names from two pots divided by gender. Each girl and boy would pick a name, thereby leaving everyone with two potential partners to choose from. Then they would be left to decide which made the best match for them.

Valentine's Day etiquette
We've already covered alternative ways you could spend your Valentine's day, from the romantic to the conservative, but there's something to be said for the traditional date at a fancy restaurant. If you've already decided that this is the right option for you then it's important you pay attention to the etiquette that's expected of a gentleman in the UK. First of all, make sure you turn up on time! Being punctual is ingrained in British culture and it's seen as particularly rude to leave someone waiting.

Arriving with flowers
Every girl dreams of a man turning up at her door with a bunch of flowers in their arms. If you're sweeping your lady off her feet with a traditional date then you'll want to choose your blooms carefully. First of all, avoid flowers from the petrol station. Women know when flowers have been picked up in a hurry. Take some time to go into a proper shop or florists to get a bespoke bunch put together. The extra effort you've gone to will be greatly appreciated. Top flowers to choose include red and white roses, lilies, gladioli and freesia. If you want something that will last beyond a few weeks then consider one of our eternity roses, which will last a lifetime.
Choosing your gifts
As we've already covered, your relationship status will help you to determine what gifts are most suitable but what we can't stress enough is how important it is to get something personal. If your partner loves reading then consider a new book, a kindle or a book subscription. If they always get cold feet then fluffy socks or slippers also make a cute gift that highlights just how well you know them. They'll be flattered you put so much thought into it.

The special meal
It can be hard to get a table on Valentine's day so make sure you book well in advance. Do your research on where would be good to eat and consider what food you both like. Think about any allergies or dietary requirements you may have and if the restaurant will need to be notified of these in advance.
When at your meal it's crucial you're clued up on proper British table manners. For example, use your fork in your left hand with the prongs facing downwards and never use your fingers to eat unless you're at a BBQ or buffet. Ensure you never speak with your mouth full or make any loud noises, such as yawning, whilst you eat. Finally, avoid putting your elbows on the table and ask for certain items on the table to be passed to you, rather than leaning over yourself.

How to end the night
We could make a few poor jokes here about how we know you would like the night to end but we won't! It's important that you assume you'll be going back to your own home unless you already live together or you usually spend the night together. If you're going to be saying goodnight when the meal has ended then offering to drop her off at home to make sure she gets back safely is a nice touch. Don't overstay your welcome when you're saying goodbye and when you get back home send her a message to tell her you had a nice time.
Only time will tell if Cupid's arrow has found its mark!
Valentine's Day Dress Code for Men
Of course you can play the part of a real catch as well as you like but if you don't look the part you're unlikely to make much of an impression. There are a thousand articles online devoted to how a woman should dress for Valentine's day, but not as much guidance for men. Because of this we thought you may find it useful to know what your date is likely to expect you to wear on this day of love.
Brunching it
Brunch is a pretty casual affair no matter what stage you're at in your relationship. You don't need to worry that you're going to make a major faux-pas with what you wear on this date, so long as it's clean and neat. Obviously, avoid sweatpants, shorts or that old jumper with the hole under the armpit. Consider clean jeans, a jumper or shirt over a tee and some nice trainers.
Traditional meal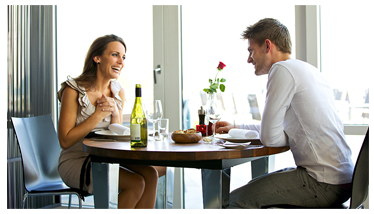 The traditional Valentine's meal can be harder to dress for but it's not hard to work out that it should be a little smarter than your usual attire. Jeans are still acceptable, so long as they're dark and fit you neatly. Pair with a shirt and some smart boots and avoid the trainers.
Don't go for the suit unless you're going to a particularly swanky place where a suit is the usual attire. It'll come across as a little try-hard and may make your date feel as if she's underdressed.
Casual drinks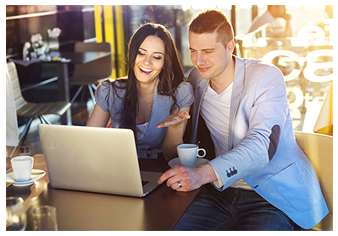 Casual drinks are a little easier to dress for as it's likely that you'll be meeting your date straight after work. Though this does mean they'll be seeing you in the clothes you've been wearing all day, it also means one of their first impressions they'll have of you will be based on how you tend to look most days of the week. It also means that you're both much more likely to be relaxed and comfortable in the clothes that you're in.
A word of warning though - meeting after work doesn't mean your clothes can't be neat and tidy. Take a back-up outfit if you're likely to get dirty in the day and always pack deodorant and aftershave for a quick freshen-up.
What Colours Mean on Valentine's Day
Worried that what you'll wear will send the wrong message? Certain colours are associated with certain relationship statuses so be careful you're not saying something secretive with your choice of outfit!


What to write on your Valentine's Day card
Not everyone can be eloquent in telling that special someone how they feel about them. No matter how well you know the person you're writing to it can be difficult to find the right words.

For your partner
Use this as an opportunity to really let them know how you feel. Include pet names and let them know what it is that they do on a regular basis that you appreciate. If there's anything they've done in the past year that really stands out and made you love them even more then let them know you noticed.

For your mum
Your mum is the first love of your life so why not let her know it? You don't have to go overboard here, a simple 'Mum, I love you and appreciate you so much' will go far.

For your friends
We all have friends in different pockets of the globe and it can be challenging to keep in touch but that doesn't mean you don't care for them. Send them a jokey 'Roses are red' style card but leave a little note at the end to let them know they've been in your heart.

To your little ones
Everyone loves to be told that they're loved and making an extra special effort to show your children that you adore them is something they'll cherish forever. Before you go to work in the morning post a card through your letterbox and ask your child to go and collect the mail. When they find that there's a card for them from a secret admirer it will brighten their day.
Valentine's Day Quotes