Details
The earrings and pendant together feature no less than 37 radiant synthetic diamonds.
Every set comes displayed in a sophisticated velvet-lined leather presentation case.
An authenticity certificate comes with each set.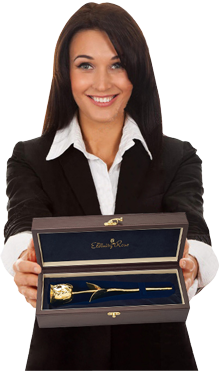 A gorgeous matching set featuring the classic heart-shaped theme.
Each set comprises:
An 11.5" rose, dipped in 24 karat gold.
A heart-shaped pendant featuring synthetic diamond detailing, fashioned from real miniature red rose petals and decorated with 24 karat gold trimming. Every pendant comes complete with a matching 24 karat gold-dipped chain. The diameter of the rose head is 3/4" and the entire pendant measures 1.2" by 0.9".
A pair of natural miniature red rose drop-earrings featuring a gold-dipped ring encrusted with 16 synthetic diamonds. The diameter of the mini rose heads is 5/8" and they are trimmed with fine 24 karat gold.
A high quality leather display case that is velvet-lined is supplied, perfect for displaying your rose in pride of place. The jewellery items are placed inside a stylish velvet pouch which is placed within the case.
As uniquely handcrafted works of art, all three items in the matching set have won awards for their design and high quality. Each item has been made by skilled craftsmen and is subjected to the most rigorously quality-control testing to ensure that it reaches the highest of European standards. The production of each item takes approximately three months, and you can expect a lifetime warranty to be supplied with your Eternity Rose purchase to give you complete peace of mind.
The perfect gift for any lady who loves fine jewellery and appreciates the natural beauty of roses.
You can also purchase an alternative matching rose and jewellery set that features our elegant leaf-themed design in the earrings and pendant.