Celebrating 70 Years of Marriage in Platinum Style
Posted on

7 May 2019 04:34:41 BST

in Blog by

Dr. Carissa Coulston (our regular guest Psychologist)
When a couple reaches any milestone anniversary, it is time for a celebration. However when it comes to celebrating seventy years of unity, this is a feat which truly deserves a special tribute.
When Lorna and Ainsworth Humphrey first met each other in the 1940s, the world was an extremely different place. And over the decades that followed, their love grew stronger and flourished.
Today, after seven decades since their wedding day, the couple's relationship is as robust as ever – something which is rarely witnessed in our modern society.
The pair are still very happy together and, although both are now in their 90s, they are still looking great and enjoying independent living.
They're also surrounded by their loved ones and family members who were keen to celebrate such a momentous occasion with them.
Marking Such A Special Occasion
It's never easy to find an anniversary gift that is suitable to commemorate any milestone occasion, however for Ainsworth and Lorna's family, there was only ever one option.
Few couples can celebrate 70 years of marriage, however for those lucky enough to be able to enjoy such a special occasion, a gift made from platinum is traditionally given.
What gift could be better for commemorating this remarkable day than a beautiful Platinum-Dipped Eternity Rose – the perfect enduring reminder to represent the many solid decades that the pair have enjoyed together?
70 Joyful Years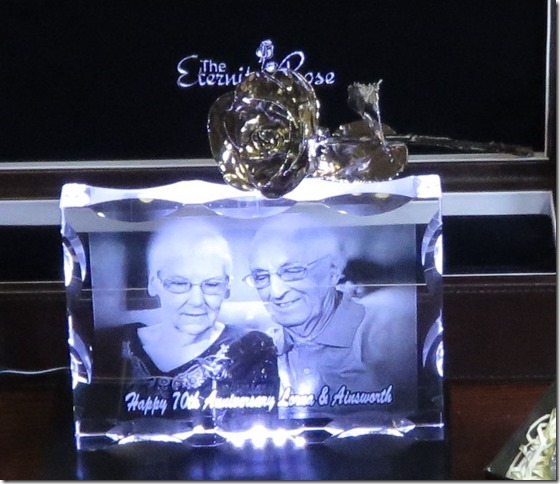 Although most people know the key symbols linked to many milestone anniversary years – such as silver for the 25th wedding anniversary and gold for the 50th, rarely do we observe 70 years of marriage being celebrated.
Platinum is the traditional symbol for this milestone anniversary due to its precious and strong nature. Since platinum never tarnishes, it's the perfect way to capture the strength and beauty of such a lasting marriage – a symbol which is truly appropriate to represent 7 decades of navigating married life through the ups as well as stormy seas.
The Platinum-Dipped Eternity Rose is an ideal way to show any couple who are celebrating this momentous occasion how much they are loved and appreciated.
Created over three months, each one is a natural rose, selected at its most splendid formation, then preserved and plated in a precious metal. Each artwork is then presented in a luxury display case, ready to be presented to the happy couple as a memento of their most special day.
Today, Lorna and Ainsworth are displaying their gift proudly in the home that they share together, and our Eternity Rose team are delighted to be able to bring such joy to the couple on this momentous occasion. We wish the pair many more joyful years together.
I would love to hear your comments or answer any questions you might have about this post.
Yours sincerely,



Dr. Carissa Coulston, Clinical Psychologist

BSc(Hons), MPsychol(Clinical), PhD, MAPS