Anniversaries are a great time to show the one you love just how much you appreciate them, and remember the day on which a special event with them took place. Some couples celebrate the day they first met, others the day the marriage proposal was delivered, and of course just about all married couples celebrate the annual return of their wedding date.
The historic origins of wedding anniversaries date back to the Holy Roman Empire, when husbands crowned their wives with a silver wreath on their 25th anniversary, or vicennalia, and a gold wreath on the 50th. Later, principally in the 20th century, the recognition of anniversaries grew to become an annual occasion which was represented by a gift.
In the Commonwealth realms, one can receive a message from the monarch for 60th, 65th, and 70th wedding anniversaries, and any wedding anniversary after that. This is done by applying to Buckingham Palace in the United Kingdom, or to the Governor-General's office in the other Commonwealth realms.
In Canada, one can also receive a message from the Governor General for the 50th anniversary, and every 5th anniversary after that.
The situation is similar in Australia, where one can receive a letter of congratulations from the Governor-General on the 50th and all subsequent wedding anniversaries; the Prime Minister, the federal Opposition leader, local members of parliament (both state and federal), and state Governors may also send salutations for the same anniversaries.
In the United States, one can receive a greeting from the President for any wedding anniversary on or after the 50th.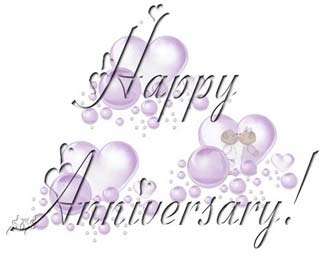 Roman Catholics may apply for a Papal blessing through their local diocese for wedding anniversaries of a special nature (25th, 50th, 60th, etc). Many men give flowers, a gift and a card to their wives on an anniversary. Many of our customers, combine the flowers and gift into a beautiful Eternity Rose, which is generally displayed in a prominent place as a reminder of the love shared by the couple.
One day we will talk our Prime Minister into sending out Eternity Roses for special anniversaries. Until then, you can delight your loved one via the simple process of ordering from our website. You will likely receive the rose within 24 hours.
And HAPPY ANNIVERSARY from the team at The Eternity Rose.