Express how deeply you feel by putting together a truly special gift that is a combination of the themes and symbols of the 8th year of marriage.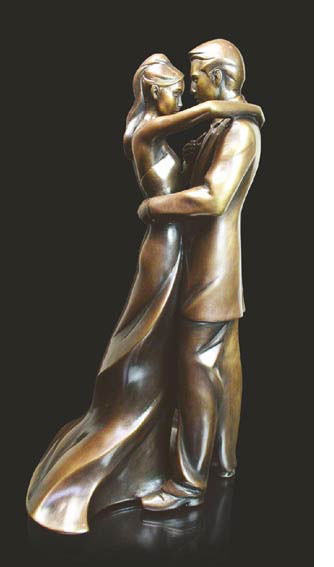 Traditional Theme for 8th Anniversary Gifts
In the UK, salt is the traditional symbol of the 8th anniversary, and is a substance that holds an ancient meaning. For centuries, it has been used to preserve foods and to disinfect wounds, and has been known historically to be valuable and rare, while being essential to life. These concepts perfectly capture the sentiments of the 8th anniversary, as the love in a marriage has become a necessity for the couple.
In America, the 8th wedding anniversary is traditionally linked with two materials, bronze and pottery. Bronze has traditionally been believed to hold healing powers and is therefore associated with good health through a marriage, representing the sustenance given to each other, even in challenging times.
As pottery is sculpted and shaped, so is a marriage over time, with the relationship being worked on by two people into an attribute of beauty.
Modern Theme for 8th Anniversary Gifts: Lace; Linen
The modern symbols linked with the 8th wedding anniversary are linen and lace, in which linen represents purity and truth, and lace reflects elegance and beauty within a marriage.
Colour: Bronze
Gemstone: Tourmaline
Substitute Gemstone: Bronze; Aventurine; Tanzanite
Flower: There are two flowers linked with the 8th anniversary, the clematis and the lilac. The clematis flower is thought to represent the linking of two minds. Purple lilacs hold a meaning of the first love, while white lilacs represent innocence.
Roses are also appropriate 8th wedding anniversary gifts, symbolising romance.
Traditional 8th Anniversary Gift Ideas
• Pottery house items (eg, vase, dish, bowl, candle holder, mugs, plant/flower pot, jug)
• Bronze house items (eg, bookends, vase, door knocker, mugs/goblets, candle holder, plates/bowls, flower or plant pot, picture frame)
• Bronze wind chimes
• Enrol in a pottery course
• Pepper and salt dispenser
• Pottery or bronze figurine/sculpture
Modern 8th Anniversary Gift Ideas
• Linen or lace bedding
• Lace attire and accessories (eg, lingerie, gloves)
• Bouquet of lilacs or clematis flowers
• Lace house items (eg, tablecloth)
• Tourmaline jewellery (eg, bracelet, necklace, earrings, ring)
• Tanzanite, aventurine or bronze jewellery as substitute gemstone options linked to the 8th anniversary
• Flower-themed gifts including the lilac or clematis (eg, fragrant candles, art print, perfume, plant)