Find inspiration in this list of traditional and modern 6th wedding anniversary gift ideas, or simply take the colours, themes and symbols that appeal to you the most from this selection, and combine them into a fabulous and cherished gift.
Traditional Theme for 6th Anniversary Gifts
In the UK, candy is the traditional theme, representing the sweetness of married love, with the opportunity to rekindle passions.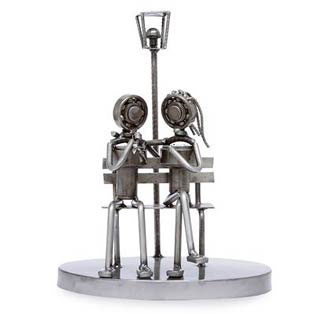 In America, the theme for the 6th wedding anniversary is iron, representing the strength in a relationship, as well as natural truth and good luck for the future.
Modern Theme for 6th Anniversary Gifts: Wood
In the contemporary lists, wood is assigned to the 6th year of marriage, representing solidity and strength as well as the wisdom developed between a couple.
Colour: White; Turquoise; Purple
Gemstone: Amethyst
Substitute Gemstone: Turquoise; Garnet
Flower: The calla lily, with its Christian symbolism of beauty, faith and purity, in addition to the Roman symbolism of lust and sexuality, is one of the flowers linked with the 6th marital year.
A white or purple rose is a suitable alternative, in connection with the colour themes of the 6th wedding anniversary.
Traditional 6th Anniversary Gift Ideas
• Box of candy
• Iron house items (eg, bookends)
• Dessert cookbook
• Cook or prepare a sweet dish at home or go out for dessert
• Candy dish
Modern 6th Anniversary Gift Ideas
• Romantic gifts of wood for her (for example, music box, jewellery box)
• Wooden house items (eg, bowls, salad set, wine rack, placemats, basket, bookends)
• Wooden furniture
• Wooden chess gift-set
• Art-print of trees
• Wooden sculpture
• Wooden puzzle
• Amethyst jewellery (eg, bracelet, necklace, earrings, ring)
• Turquoise or garnet jewellery as substitute gemstones linked to the 6th wedding anniversary
• Pearl-White Eternity Rose (symbolising the colour white linked to the sixth anniversary)
• Fresh bunch of calla lilies
• Purple Eternity Rose (symbolising the colour purple linked to the 6th wedding anniversary)
• Flower-themed gifts including the calla lily (eg, fragrant candles, art print, perfume, plant)
Here we present a video that displays the Purple Glazed Eternity Rose