Find some interesting traditional gift suggestions here for your partner or for loved ones who are celebrating their 5th anniversary, or combine the themes to come up with a beautiful and much appreciated present that conveys a message of heartfelt sentiment.
Traditional Theme for 5th Anniversary Gifts: Wood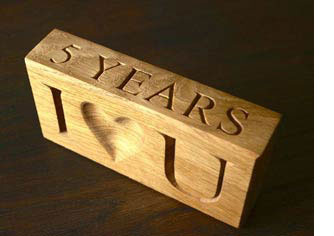 With a meaning of strength and wisdom, wood represents the solidity of a five year-long marriage and shows the couple the depth of their understanding for each other.
Modern Theme for 5th Anniversary Gifts: Silverware
Modern couples may appreciate the contemporary theme of silverware, chosen for its symbolism of strength and purity. A gift of silverware also brings to mind the connection of the couple while sharing meals with each other and each other's families.
Colour: Pink; Blue; Turquoise
Gemstone: Sapphire
Substitute Gemstone: Turquoise; Rose Quartz; Pink Tourmaline
Flower: The daisy, with its meaning of purity and loyalty, is the flower linked with five years of marriage.
Giving a pink, blue or silver rose would be an appropriate alternative, in connection with the colour themes of the 5th wedding anniversary.
Traditional 5th Anniversary Gift Ideas
• Romantic gifts of wood for her (for example, music box, jewellery box)
• Wooden house items (eg, bowls, salad set, wine rack, placemats, basket, bookends)
• Wooden furniture
• Wooden chess gift-set
• Art-print of trees
• Wooden sculpture
• Wooden puzzle
Modern 5th Anniversary Gift Ideas
• Silver jewellery (eg, bracelet, necklace, earrings, ring)
• Silverware (eg, bowls, plates, goblets, candle holder, cutlery, tea set, wine bucket)
• Sapphire jewellery
• Pink tourmaline, rose quartz or turquoise jewellery as substitute gemstones linked to the 5th anniversary year)
• Dark-Blue Eternity Rose or Light-Blue Eternity Rose (symbolising the colour blue linked to the 5th anniversary)
• Daisy-themed gifts (eg, fragrant candles, art print, perfume, plant)
• Silver photo frame
• Silver-Dipped Eternity Rose (symbolising the modern silverware theme linked to the 5th wedding anniversary)
• Bunch of daisies
• Pink Eternity Rose (symbolising the colour pink linked to 5th wedding anniversary)
Watch our video of the Pink Glazed Eternity Rose