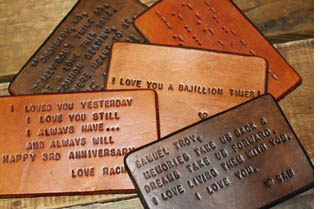 If you are hoping to choose a theme for a third anniversary gift, you could try one of these ideas. Alternatively, you can mix and match any of the colours, themes or items to make a gift ideally tailored to the tastes of the recipient(s).
Traditional Theme for 3rd Anniversary Gifts: Leather
Signifying the protection and warmth found in a loving marriage, just as in ancient times people took shelter under animal skins, leather has been the traditional theme of the third wedding anniversary for generations.
Modern Theme for 3rd Anniversary Gifts: Glass/Crystal
Glass or crystal are often given as a modern alternative to leather for the third anniversary. The radiant and dazzling nature of crystal reminds couples of how they can work together to inspire others, while both glass and crystal are fragile and easily broken and should be cared for, just like a three year-long marriage that has many years ahead to travel.
Colour: White; Jade
Gemstone: Pearl
Substitute Gemstone: Jade; Moonstone; Crystal
Flower: The fuschia, with its meaning of love and amiability, the sunflower, with its Chinese symbolism of good luck and long life together, and the lily of the valley which signifies trustworthiness, purity and sweetness, are all ideal flowers for the third wedding anniversary.
The white rose makes a beautiful alternative for the third wedding anniversary, in connection with the colour theme of the 3rd wedding anniversary.
Traditional 3rd Anniversary Gift Ideas
• Leather products (eg, passport-holder, briefcase, diary, photo album, wallet, handbag)
• Leather attire (eg, gloves, jacket, cap, belt, shoes)
Modern 3rd Anniversary Gift Ideas
• Pearl jewellery (eg, bracelet, earrings, necklace, ring)
• Crystal house items (eg, vase, wine goblets, jug, bowl/dish, candle holder)
• Crystal paperweight
• Crystal, moonstone or jade jewellery as substitute gemstone options linked to the 3rd anniversary
• Dark-Green Eternity Rose or Light-Green Eternity Rose (symbolising the colour jade linked to the 3rd anniversary)
• Bouquet of sunflowers, fuschias, or lily of the valley flowers
• Crystal figurines
• Pearl-White Eternity Rose (symbolising the colour white linked to the 3rd wedding anniversary)
• Flower-themed gifts including the sunflower, fuschia or lily of the valley (eg, fragrant candles, art print, perfume, plant)
Take a moment to watch this video for the Dark-Green Glazed Eternity Rose