Show your heartfelt sentiments for your partner or loved ones as the 24th wedding anniversary is approached, by mixing and matching different themes and giving a present they will truly appreciate.
Traditional Theme for 24th Anniversary Gifts: Opal (US)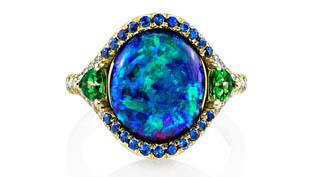 The traditional theme for the 24th anniversary is opal, thought to inspire love, purity and hope for the future.
Modern Theme for 24th Anniversary Gifts: Musical Instruments
Musical instruments comprise the modern gift theme for this anniversary, with all the passion and emotion that music signifies.
Colour: Lavender
Gemstone: Tanzanite
Flower: Nil
Traditional 24th Anniversary Gift Ideas
• Jewellery containing an opal(s) (eg, necklace, ring, bracelet, earrings)
Modern 24th Anniversary Gift Ideas
• Antique sheet music
• Musical instrument
• Poster or print of well-known musicians
• Tanzanite jewellery (eg, necklace, ring, bracelet, earrings)
• Music-affiliated technology including speakers or music devices
• Popular music from when the couple dated
• Tickets to a musical production, symphony orchestra or symphony