The milestone of the 15th anniversary should be marked with a thoughtful and memorable gift. Here you can freely select any gift from this list of inspirational traditional and modern presents linked with a decade and a half of union.
Traditional Theme for 15th Anniversary Gifts: Crystal
Crystal is the traditional gift theme associated with the 15th wedding anniversary, its beautiful facets signifying the dazzling splendour of a lasting happy marriage. As crystal is fragile and easily broken, so it reminds the couple to nurture their relationship to prevent it from breaking down.
Modern Theme for 15th Anniversary Gifts: Watches
Watches are the modern 15th anniversary token, representing a love which lasts for all time.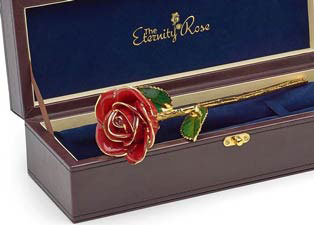 Colour: Red
Gemstone: Ruby
Substitute Gemstone: Blue Sapphire; Rhodolite
Flower: Roses are the floral symbol of this anniversary year, and as red is the traditional colour for this anniversary, a red rose would be the perfect choice to represent the sentiments of passion and true, deep love.
Traditional 15th Anniversary Gift Ideas
• Crystal house items (eg, vase, wine goblets, bell, candle holder, dish/bowl, jug)
• Crystal paperweight
• Crystal figurines
Modern 15th Anniversary Gift Ideas
• Wrist watch
• Rose-themed presents (eg, art print, rose-scented candles, perfume, plant)
• Ruby jewellery (eg, necklace, ring, pendant, bracelet)
• Blue sapphire or rhodolite jewellery as substitute gemstones linked to the 15th anniversary)
• Fresh bunch / box of red roses
• ** A highly appropriate and romantic gift for the 15th wedding anniversary is a Red Eternity Rose or Dark-Red Eternity Rose (symbolising the colour red and the rose theme linked to the 15th anniversary)
View our video below of the glorious Red Glazed Eternity Rose