There are both traditional and modern gift themes linked to the 14th anniversary, and it couldn't be simpler to create a meaningful and appropriate gift that your partner or the celebrating loved ones will cherish for a lifetime.
Traditional Theme for 14th Anniversary Gifts: Elephant or Ivory *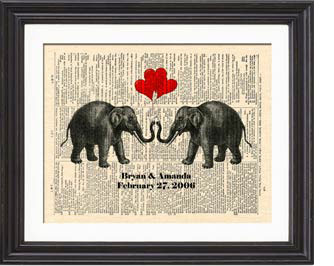 * Ivory historically was the traditional symbol for the 14th anniversary, however this has now become an issue because of poaching and animal rights issues. Instead, the elephant is often taken as the 14th anniversary theme, reflecting the stability, patience and dignity inherent in a long marriage. In Hindu culture, elephants are thought to represent protection, good luck and blessings on any new endeavours, thus reflecting a wish for good fortune for the couple's future.
Modern Theme for 14th Anniversary Gifts: Gold Jewellery
Gold jewellery is sometimes given as a modern gift for the 14th anniversary, with its message of wealth, health and power.
Colour: Ivory
Gemstone: Opal
Substitute Gemstone: Kunzite; Moss Agate; Gold; Ivory
Flower: The dahlia is the floral symbol of grace and elegance, signifying the lasting commitment of marriage.
Sometimes a gold or white rose is given instead as an appropriate gift, in connection with the colour and modern gift themes associated with the 14th wedding anniversary.
Traditional 14th Anniversary Gift Ideas
• Ivory-based frame or gifts *
• Elephant-theme gifts (eg, art print or figurine)
• Make a donation towards an elephant reserve
Modern 14th Anniversary Gift Ideas
• Pearl-White Eternity Rose (symbolising the colour ivory linked to the 14th anniversary)
• Fresh bunch of dahlias
• Gold-Dipped Eternity Rose (symbolising the modern gold-jewellery gift theme linked to the 14th anniversary)
• Flower-themed gifts including the dahlia (for example, fragrant candles, art print, perfume, plant)
• Gold jewellery (eg, necklace, ring, pendant, bracelet)
• Opal jewellery
• Kunzite, moss agate or ivory* jewellery as substitute gemstone options linked to the 14th wedding anniversary
* Ivory-based items are less common due to endangerment of the elephant populations
Click here to view our natural Pearl-White Eternity Rose