There are many wonderful gift themes linked with the 13th wedding anniversary, so if you're looking for inspirational ideas to surprise your loved ones on their special day, why not look at these lists and combine some ideas to make a heartfelt gift.
Traditional Theme for 13th Anniversary Gifts: Lace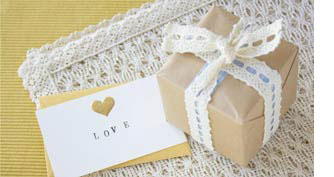 Traditionally, lace is given on the 13th anniversary, its intricate detailing reflecting the intertwining of the couple's lives through 13 years of marriage.
Modern Theme for 13th Anniversary Gifts: Furs: Textiles
The modern theme for the 13th anniversary is furs and textiles, reflecting the protection and warmth derived from a comforting and successful marriage.
Colour: White
Gemstone: Citrine
Substitute Gemstone: Opal; Malachite; Moonstone
Flower: The chrysanthemum is given on this marital year, with its meaning of fidelity when a yellow blossom is given, renewed passion for a red blossom, honesty and truth for a white blossom, and a hope for good health for violet blooms.
A white rose is also often given this anniversary year, in connection with the colour theme of the 13th wedding anniversary.
Traditional 13th Anniversary Gift Ideas
• Lace accessories or clothing (eg, lingerie, gloves)
• Lace manchester
• Lace house items (eg, tablecloth)
Modern 13th Anniversary Gift Ideas
• Citrine jewellery (eg, necklace, bracelet, earrings, ring)
• Fur accessories and clothing (eg, scarf, jacket, fur-adorned gloves)
• Flower-themed gifts including the chrysanthemum (eg, fragrant candles, art print, perfume, plant)
• Opal, malachite or moonstone jewellery as substitute gemstones linked to the 13th anniversary year
• Pearl-White Eternity Rose (symbolising the colour white linked to the 13th anniversary)
• Fresh bunch of chrysanthemums
Check out the video here of our natural Pearl-White Glazed Eternity Rose