Find unique and exciting ideas for 11th wedding anniversary presents that will be adored when you use our helpful list of various anniversary themes. With no need to feel bound by convention, you can mix and match the themes to design your own bespoke gift.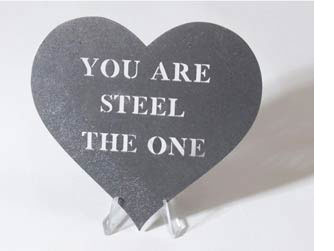 Traditional Theme for 11th Anniversary Gifts: Steel
The traditional material for the 11th anniversary is steel, with its strength and durability embodying the lasting nature of this marriage which is about to embark upon a second decade.
Modern Theme for 11th Anniversary Gifts: Accessories; Fashion Jewellery
Those who would prefer to give a modern gift should look for fashion jewellery and accessories that perfectly reflect the joy and fun in any lasting marriage.
Colour: Turquoise
Gemstone: Turquoise
Substitute Gemstone: Hematite
Flowers: The tulip and morning glory are the two flowers linked with the 11th anniversary. The colour of the tulip changes its meaning in which red tulips indicate belief, yellow reflects cheerfulness, orange signifies passion, and pink reflects care and affection. The morning glory's short lifespan reminds a couple to appreciate every new day with their partner, and to treasure every moment as their marriage bursts anew into a fresh decade.
The rose is also a beautiful and romantic flower to give on the 11th anniversary.
Traditional 11th Anniversary Gift Ideas
• Stainless steel house items (eg, cutlery set, wine glasses, wine chiller, clock, candle holder)
• Stainless steel products and accessories (eg, men's bracelet, key ring, wrist watch)
• Stainless steel figurine or sculpture
Modern 11th Anniversary Gift Ideas
• Turquoise jewellery
• Fashion accessories and jewellery (eg, bracelet, necklace, earrings, ring, scarf, hat)
• Bouquet of morning glory flowers or tulips
• Hematite jewellery as a substitute gemstone linked to the 11th anniversary
• Flower-themed gifts including morning glory or tulip (eg, fragrant candles, art print, perfume, plant)